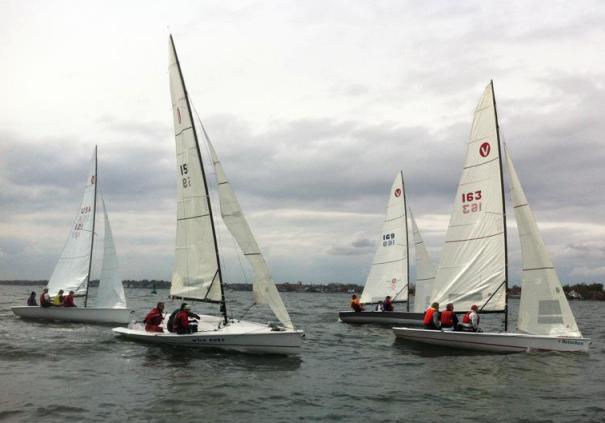 The last Viper regatta on Western Long Island Sound for 2012 had no entry fee, no recorded scores, no trophies, the smallest turnout of the year, and had boat owners in a panic derigging boats to avoid a hurricane that was closing in on the area.  Yet it might have been the most successful regatta of the season.
Most Viper owners have taken sailors out before either formally or informally to demo the boat — it's a win-win, you get to go sailing, maybe the person coming out is a friend who sails in other classes or who hasn't done much sailing, or is a prospective owner who is thinking about getting a boat and joining your fleet (even better than taking a friend sailing!).  As an experiment and to promote fleet growth in the area, we wanted to see what would happen if we put multiple demo boats in the same place at the same time, set some marks, blew some whistles, and turned Viper novices loose in close proximity to each other.  Would the newbies figure out the closing speeds on opposite gybes when both boats are doing 10-12 knots?  Would they get the feel for the boat fast enough?  Would they have a good enough time to tell their spouses, kids and friends?
The original forecast called for very light winds.  Hurricane Sandy changed that, and gave us 11-15 knots from the east 50 hours before the storm hit the area and caused significant damage to the sailing facilities at LYC.  Five owners lent boats — some also sailed as a crew/coach to teach the 12 newcomers from the tristate area (most were from WLIS clubs other than LYC) how to get sails up and down and the boat around the racecourse quickly.  Nearly everyone got the hang of it by the second race.  The racing was surprisingly close, and the newbies got their competitive juices flowing early while trying to shut out the other demo sailors on the starting line and stealing holes to leeward.  Four different teams won the five races.  Other area owners chipped in to serve as race committee and mark boats.  The hosts provided beverages afterward.  No scores were posted or trophies provided since that wasn't what the day was all about.  Everyone had a great time, some people even said they'd be putting in deposits.  Huge thanks to everyone for participating in what we hope will become an annual event.