Australian slang saying
to drive at great speed eg He was fangin' it around the corner.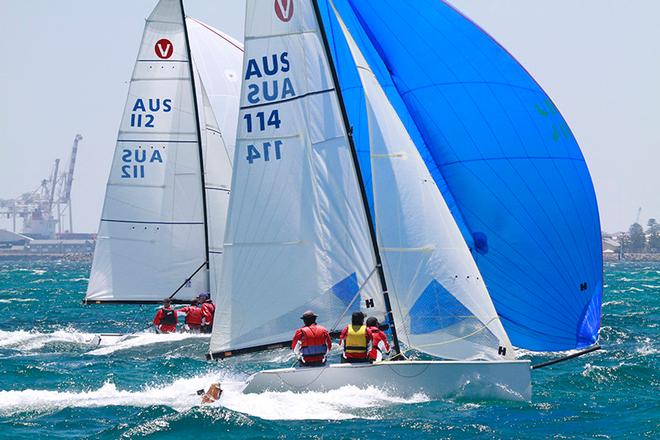 The 7th Australian Sports Boat Association National Titles were sailed from the Fremantle Sailing Club.
The Fremantle Doctor lived up to its reputation with only one race under ten knots and the most in the high teens to gear busting 25+ knots.
The Fleet
The fleet consisted of twenty one boats of a range of designs.
2011 winner Brett Whitbread sailed the 7.2m wicked winged machine, – Crank – an awesome looking dinghy/keelboat. It has an all up sailing weight of 453kgs.
Seven vipers made up a big part of the fleet with Rod Beurteaux and Tim Reger considered to have the best chances.
Three Shaw 650's included last year's runner up Rees Howall sailing Octopussy.
Two new VX's would be sailing with their big masthead chutes. Andrew York would be competitive and the other VX was skippered by the VX and Viper designer Brian Bennett.
The fleet also included M24's, T7's and 7.5's, SB20 and a GT750.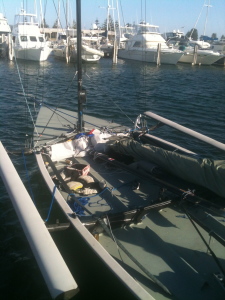 Day One
Race one started at about 12 knots and the strength just went up from there in the next two races.
Crank had a good day with two wins and Tim Reger on Fang was consistent with two seconds. Rees Howall on the Shaw 650 Octopussy had a first and third.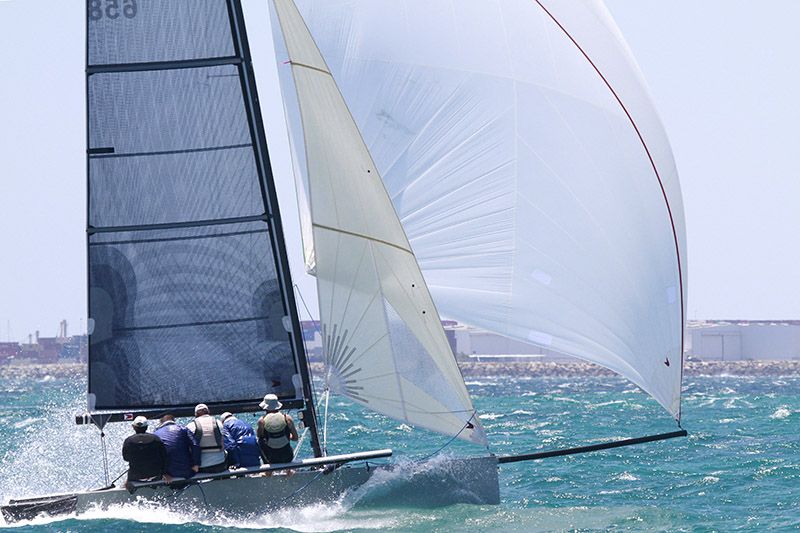 Day Two
Day two had only one race – a sixteen mile passage race. Most of the race was around 20 knots and finished in a gear busting, consistent 25 +knots.
Crank disappeared into the distance followed by T750 Ducks Nuts. The seven Vipers were having a great race all pushing each other and swapping positions.
Gradually the conditions started to take their toll. Two Vipers wiped each other out when one didn't quite make a port/starboard dip. Crank damaged some rigging and was not able to carry a spinnaker for the last two legs.
Fang (Tim Reger) rounded the top mark with a handy lead over the other vipers. With only two downwind legs to go, he sheared off the rudder pintle.
Octopussy lost their tackline on their spinnaker and did not carry their spinnaker on the last legs.
John Parkes again showed the strength of the Viper mast when they sheared off a spreader on the last leg but kept the mast in the boat.
It was last man standing and Rod Beurteaux came through to win, passing Andrew York's VX when they ditched after a last leg broach.
Four of the top five boats where Viper 640 designs.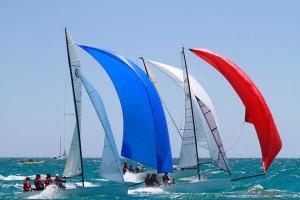 Day Three
Day three saw 20 to 25 knots. Fang had two wins and Rod Beurteaux took out the other race. At the end of the penultimate day, Fang held a one point break on Crank to Octopussy.
Day Four
Day four saw a pleasant break with a race under ten knots. Rod Beurteaux hit all the right shifts to follow the two T750's at the first mark. While passed by Crank downwind they again worked through to third on the next windward leg. Crank and Octopussy passed them on the last run but Beurteaux was first on SMS with Octopussy second. Tim Reger had a bad race and finished 8th with Crank in 13th on SMS.
It was the first and only race that Crank had not gained line honours, which went to local Guy Skinner on the T750 Turnham Green.
The second last race of the series was won by Fang with Crank second and Don't Forget Alice third. All races were close and again this showed with the winning margin being 1 second. This gave Fang a four point lead with one race remaining.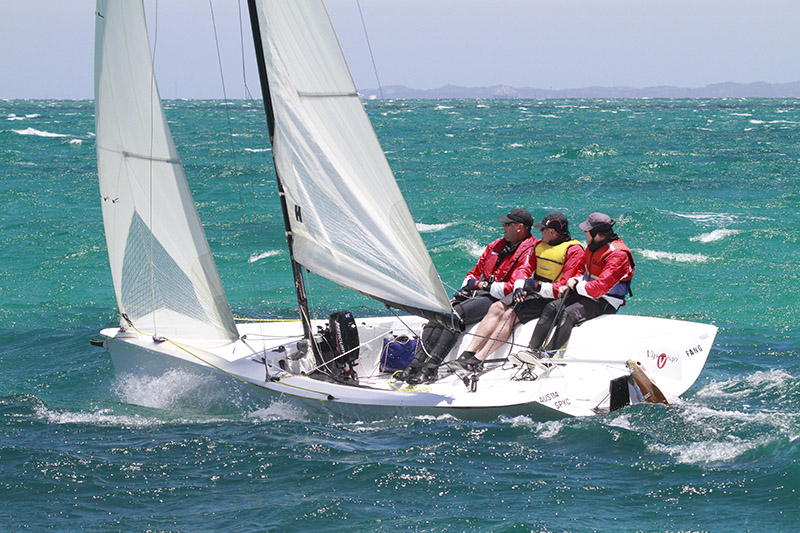 Crank again took line honours and won the last race on SMS. The Fang crew sailed a great race, securing second place, only 6 seconds behind Crank. They had taken the title by three points. Octopussy finished third and another Viper – Rod Beurteaux in Don't forget Alice finished fourth.
Vipers in Australia
It's great that the Viper 640 design has grasped the holy grail of Australian Sportsboat racing. Crank is a past Australian champion and Octopussy was runner-up last year so the Vipers did well to win 6 out of the 10 races.
When sailed well the Viper is a really competitive package. This is important because while the aim is to branch into our own one design championships in Australia, there will be areas without fleet numbers and these boats will probably need to race under the SMS handicap system.
Vipers have proven to be a great design in a range of breezes. They are hard to beat upwind especially in choppy conditions and they hang in well against larger boats. Downwind in light or very heavy conditions they are on the money.
Photos
Photos from the series are available from Teri Dodds Photography (http://www.teridodds.com/)
Video
Not much of the Vipers but a good one showing Crank on the move to see what Tim and the boys needed to beat…..
http://www.youtube.com/watch?v=R9tNDu11q58&list=UU06fS6fSP_9pAjAlkX6kuyQ