There's something about sailing in Charleston that causes Viperers to wax poetic.  Not that Class Governor Justin Scott needed an excuse to put pen to paper, but now that the chicken and waffles have been digested and the carrier pigeon received with an article tied to its leg, we're ready to publish.  Enjoy. 
Familiar Faces
Charleston Race Week was close, very close. Brad Boston, Lee Shuckerow and Eric Vigrass were not allowed to relax and celebrate until the last races were abandoned, but once again our favorite "homeboyz" from Detroit and Sarnia took home the Charleston Race Week championship. Only four points separated the top three boats. Brad admitted that "It was tough out there," and commented, "Everyone in the fleet is getting better and better. There are no easy clear lanes on the Viper course. It's all about hitting singles and staying consistent."
College Sweethearts
Whenever I see Phil and Wendy Lotz sailing, the tune from Paul Simon's "Still Crazy after All these Years" runs through my head.
I mean, how many of us are still married to our college sweethearts, let alone still sailing together? Yet here are Phil and Wendy, not only still sailing together, and having the time of their lives, but still winning races together.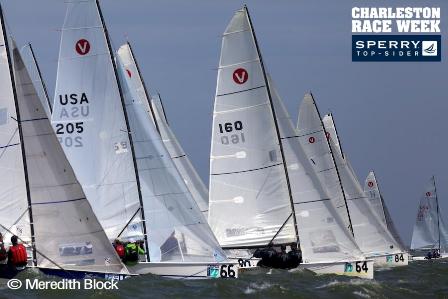 Amidst one of the deepest and toughest fleets we have seen at Charleston Race Week, in conditions that left even the youngest quadriceps screaming for ibuprofen, Phil and Wendy pulled off second place with style — winning more races than any other team (three bullets in eight races).
They also comfortably won the unofficial Vipers "Masters" title. The Masters is a side bet that goes on amongst the teams with a combined age of more than 130 years. Fellow Masters teams, 3 Grins and Mambo Kings commiserated their defeat at the Huddle House on I-95 at 4 a.m. on Monday morning, and started plotting a rematch for the New England circuit this Summer.
Greased Lightning
What do you get when you put three experienced Lightning sailors in a Viper for the first time, in a major regatta with 33 boats?  You get a bullet in the first race, straight out of the box, if the three Lightning sailors are Allan Terhune, Neal Fowler and Steve Constants. "It's a little faster but the general principles are the same, three guys having fun on a sailboat," said Allan with a chuckle.  Just to prove that it wasn't all luck, they got a bullet in the third race as well.
Other Tall Tales
Among the Viper Class, the ledge at Middle Ground is known humorously as "Panda's Ledge" after Team Vicious Panda fetched up on the infamous rock in the middle of the Circle Two race course last year.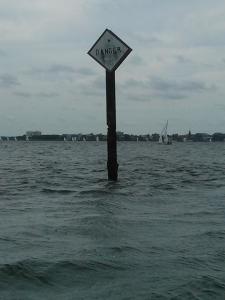 The humor has darkened now, and superstitious Viper sailors toss salt over their left shoulder, rub voodoo charms, and cross the street when they see pandas walking towards them.
In a dark and mysterious twist of fate, Danny Pletsch had borrowed Vicious Panda for this year's Charleston Race Week, and, despite a solemn vow to Peter, "For the love of God, please stay away from the only rock around for 200 miles in the middle of the racecourse," the boat and its crew were drawn inexorably into the Ledge's vortex.
We are happy to report that repairs will be underway shortly and with the help of a brief exorcism ceremony Vicious Panda will be back for the Larchmont Memorial Day Regatta.
It was noticeable how quickly new boat owners were climbing the learning curve. Jay Rhame sailing four up, with an all amateur crew, had three respectable double digit finishes on Friday, but they dialed in on the last day and four top 10 finishes put them into sixth place for the regatta.
Jeff Lee had an average finish of 27th on day one, and an average finish of 12th on day two, which he declared as "My best day of Viper sailing so far," and gave credit to Rondar's on-the-water coaching and input from sail designer and class regular Doug Slocum.
Both Sidewinder (Travis Yates and Mike Meighan), and Tucker McElroy (Dave Banyard), joined us from the new Sarasota fleet. Tucker spent some undergoing the new Viper owner's initiation into the art of the spinnaker dowse, but it seemed to do nothing to dampen their enthusiasm. Sidewinder was scary fast for a new boat owner and makes us think this is not their first rodeo.
The family sportsmanship award in this author's opinion goes to Peter Broszkowski, who sailed with his two teenage sons. They were probably the lightest crew at the regatta and wisely passed on Friday's big breeze day, but on Saturday they went for their very first race in their new boat, and we look forward to welcoming the Broszkowski family team to many future regattas.
Charleston Race Week is different every year, with spring sailing and crazy tides, but year after year we are drawn back to this friendly reunion with friends and fellow Viper sailors. I always come home from CRW feeling that the 2013 season has officially started.