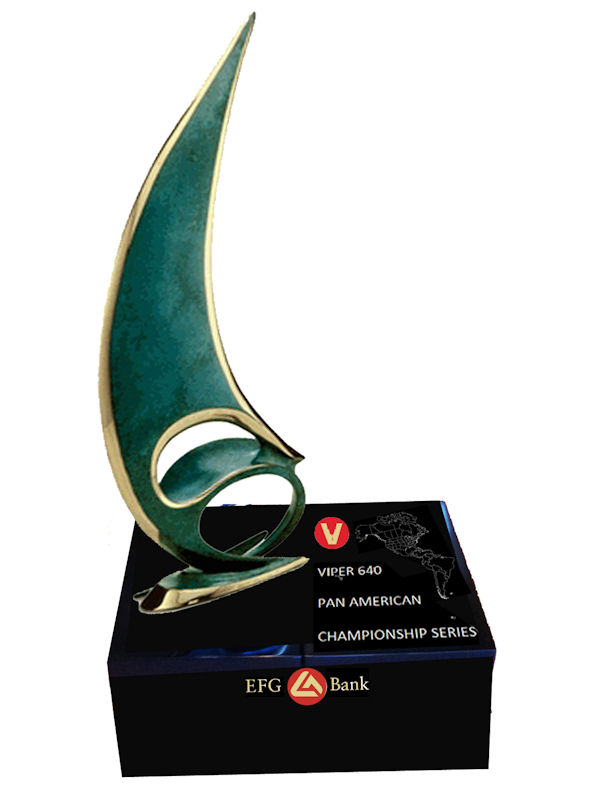 The Viper 640 Class Association is thrilled to announce that EFG International has renewed its partnership with the class to revamp the Viper Pan American Championship for 2013-2014.
The key changes are to the regattas, sponsors and scoring system.  Miami 2014 is now a "winner-take-all" event.  You can "qualify" for Miami by doing one of several pre-championship qualifiers, including the EFG Cup just a couple of days before Miami Sailing Week. Other qualifiers include:
– Long Beach Race Week (June 28-30, Alamitos Bay YC)
– Newport Regatta / Viper ACCs (July 13-14, Newport, RI)
– Cowes Week (England – top sportboat division finisher gets a free Viper charter in Miami)
– Lake Garda K6 European Championship (June 24-28)
– Canadian Viper Nationals (CORK – Kingston, Ontario Aug. 23-25)
– Viper North Americans (Houston YC Oct. 9-12)
– Soto 40 South American Championship (TBA)
– Australian National Championship (TBA)
– EFG Cup (Miami, FL Mar. 2-3, 2014)
Finishers in the top quintile of each fleet carry over 1 point to Miami (non-discardable), second quintile two points, and so on.  Thanks to generous sponsorship from Rondar Raceboats, top international teams from Cowes, Lake Garda, Australia, Soto 40 South Americans and selected other international participants can "win" the right for a free charter of a brand new Viper (with new sails) for Miami Sailing Week, Mar. 7-9, 2014.  More details to follow, but needless to say, the Class is very excited about this fantastic opportunity.  Complete press release below.
MIAMI (June 6, 2013) EFG International and the Viper 640 Class Association are pleased to announce a revamped EFG Pan-American Sport Boat Championship with some important changes for 2013-2014.
EFG International, the international private bank, has been a partner with the Viper 640 Class Association since 2010 as founding sponsor of the EFG Pan-American Sport Boat Championship.
The 2013-14 Championship series will mark EFG International's fifth consecutive year of sponsoring this premier circuit for the Viper 640 class. The number of participants in the series has climbed from 43 teams in 2010 to 74 teams in 2012 and has included participants from Australia, New Zealand, Bermuda, USA, Peru, Turks and Caicos, UK, Netherlands, and Canada.
To celebrate the fifth anniversary of the partnership, EFG International and the Viper Class are pleased to announce some important upgrades to the Pan American Championship.
 The previous championship, which started in Miami and used the scores from a series of four regattas in the USA and Canada, will be replaced with a series of qualifying events and then a grand finale concluding in Miami in March 2014.
 In recognition of the growing international participation, the qualifying events will be expanded to include five international qualifying events in Canada, South America, Europe and Australia.
 The budget for the championship has been doubled from 2012 and includes six free charter boats in Miami for qualifying international participants.
 Rondar Raceboats has joined as a supporting sponsor, along with additional co-sponsorship partners BACARDI, STUDIOMILANO, the Viper 640 Class Association and iHispano.
 The grand finale in Miami has been expanded to a week-long celebration of sport boat sailing by including an additional two day pre-championship regatta for the EFG Cup.
The Championship provides a grand prix qualifying circuit for sport boat sailors, culminating in a finale to be held in conjunction with BACARDI Miami Sailing Week presented by EFG International, hosted in the Viper 640. It will continue to promote a Pan-American concept, encouraging sailors from across the continent and overseas to join in friendly competition in the spectacular sailing arena of Biscayne Bay. Teams from Canada, the USA, the Caribbean, Australia and Europe have already indicated early interest in the event, including several past Olympians.
The Viper 640 is a high-performance, one-design sport boat. It is one of the fastest growing three person one design classes in North America.
Keith Gapp, Head of Strategic Marketing & Communications, EFG International:
 "Along with the organizing committee, we thought long and hard how to make a good event even better. Everyone is very excited by the additions to the format. This is our fifth year as title sponsor of the Viper 640 Pan American Championship, and our fourth year as presenting sponsor of BACARDI Miami Sailing. EFG International places importance on the continuity of relationships and we are very proud of our role as the private bank for sailing. The Pan American events and our Miami events complement our international sailing activities in Europe (EFG Bank Sailing Team, Panerai British Classic Week and Monaco Yacht Club's EFG Bank Sailing Academy), the Caribbean (Antigua Classic Yacht Regatta), the Middle East (EFG Bank Sailing Arabia – The Tour 2013) and in Asia (EFG Bank Mandrake)."
Peter Beardsley, Viper 640 Class President:
 "EFG International's commitment to sailing has had a significant positive impact on our sport. This partnership has created a grand prix event in Miami preceded by an exciting qualifying circuit that is accessible to sport boat sailors around the Americas and overseas. We are thrilled to partner with EFG."
About EFG International
EFG International is a global private banking group offering private banking and asset management services, headquartered in Zurich. EFG International's group of private banking businesses operates in around 30 locations worldwide, with circa 2,300 employees. EFG International's registered shares (EFGN) are listed on the SIX Swiss Exchange.
EFG International, Bahnhofstrasse 12, 8001 Zürich, Switzerland
www.efginternational.com
Practitioners of the craft of private banking