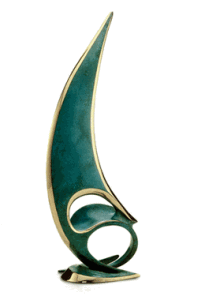 This is the gorgeous perpetual trophy that has been commissioned for the Pan American Championship series.
The trophy is a solid bronze sculpture that stands two feet tall. It will be mounted on an eight inch high carbon plinth that is being manufactured by Ben Parker. The total height of the trophy is 32″
The trophy will be presented by EFG to the 2011 series champions, Glyn Locke, David Chapman and Ian Nicholson at the opening event for the 2012 series, Bacardi Miami Sailing week, March 12.
The results for the 2011 series will be posted here as soon as our class web turks have downloaded the pdf
The 2012 Pan American Championship series has a couple of important innovations.
The series will consist of three regattas.
1.The opening event remains the Bacardi in Miami.
2. For the second event, each competitor has a choice of their best result in a regional qualifying championships.
3. The third and closing event will be the North American Championship in Marblehead in September.
The final results will be determined by each competitor combining their overall finishing position from their best two out of three events. (The Notice of Series describes how the results from the regional regattas will be normalized to a standardized score.)  If you are competing in either or both the Bacardi or the North Americans, there is a strong incentive to attend your regional championships to place in the Pan American series. You only need two events to avoid counting a DNC.
The Regional Qualifying Championships are currently:
Viper Gulf Coast Championships at Mardi Gras Race Week
Viper Atlantic Coast Championships at Charleston Race Week
Viper Pacific Coast Championships at Whidbey Island Race Week
Viper New England Championships at Bacardi Newport Sailing Week
The first regional championship is coming up fast with the Viper Gulf Coast Championships at Mardi Gras Race Week.