Carbon alongside wood. Blazers alongside malodorous wetsuits. Moths alongside Vipers. Greenwich hedge fund managers alongside a professional tree climber from Jamestown. The once manicured lawns of the American Yacht Club at Rye are awash with a melee of contrasts and drying spinnakers. It is once again that unique sailing pageant, the Heineken High Performance Dinghy Open.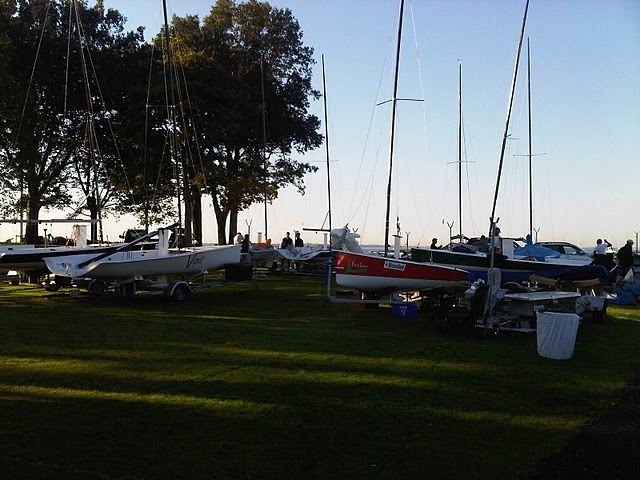 According to the logo on a shirt in one of my closets, I first attended the HPDO on 2006. I haven't missed the event since then. For anyone who enjoys a "back to the future" combination of modern boats and hospitality from a bygone age, this needs to be on your bucket list. The HPDO is partly about sailboat racing, partly about a social gathering of folks who love lightweight high performance racing boats, and partly a Concours de Elegance of carbon, wood and epoxy spread out on AYC's lawns and dry sailing area. An essential ingredient of the HPDO scene is groups of sailors just wandering around looking at other people's boats, peering under foredecks, ooohing and ahhhing at rigging and fixes. There are ten dollar fixes to hundred dollar problems, and inevitably , thousand dollar carbon solutions to ten dollar problems.  This regatta has a buzz that is very special.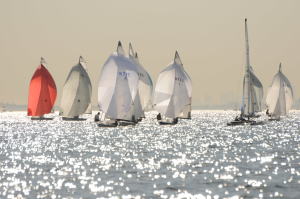 //
I don't think the founders of the regatta ever anticipated that it would grow to this size. Nor do I think they had a strategy to create a destination regatta. I believe they just sensed something was missing from the sailing scene in the North East. John Wyles joined AYC when his globetrotting wife was posted to the United Nations in New York.  John is one of those quietly enthusiastic men who convey a love of the sport without shouting or banging the table. He owns a couple of 5-0-5s and sports the trim grey beard that seems to be de rigueur for half of the of 5-0-5 owners. After reinvigorating the local 5-0-5 fleet, John gently suggested to his fellow AYC members and local 5-0-5 owners that there was something special about the congenial atmosphere of a British "dinghy open meeting". He described an open meeting where a club would open its doors to a couple of dinghy classes, and for a modest fee, provide a weekend of racing, some hot showers, and a keg of beer, where sailors would hang around after racing in the dinghy park swapping stories and tuning tips, where the emphasis was on small fast boats sailed by one ,two or three people and where the silverware was less important than the hot showers, good friends and beer.
Sometimes the right person, says the right thing at the right club and it all comes together. John's vision of an "open meeting" struck a chord with AYC's membership. American Yacht Club sits on twelve gorgeous acres on Milton point extending out into Long Island Sound with a jaw dropping facility. In polite terms, this club is in sound financial standing. But the membership were not rubbing their hands in self satisfaction at the history of prestigious Bermuda Race winners and the successful America Cup defenses that their club had spawned. While the American Yacht Fall Series was already one of the pre-eminent big boat handicap series on the Sound and the paddle tennis team and swim teams were pretty handy as well, some of the leadership at the club saw a mission for the club promoting an active and thriving sailing small boat scene on the Western corner of Long Island Sound. One member put it to me, "We were looking to invest in sailing and we wanted AYC to be a vibrant sailing club. For a couple of years, we watched John's merry band of men in wetsuits launching small boats from our ramps and then suddenly we got it. The light bulb went off. This was the future, and we really got behind small boat sailing ".  Some of the club's owners started buying 5-0-5s. Jim Wilson and Stu Saffer started an initiative to introduce a smaller modern one design high performance keel boat to the club, which eventually resulted in 20 K6s regularly racing on Sunday afternoons at the club. John's idea of an "open meeting" seemed just the ticket for the club to support and promote the racing of small high performance boats. John describes a more modest beginning. "In that first regatta, I started off intending to host a 5-0-5 open meeting but I wasn't sure I could get enough boats so we asked some 470s and Flying Dutchmen if they would like to come. Then the Canoes came along and it kind of snowballed from there."
Dan Walsh is a club member and also the Heineken distributor for the region so he supplied a keg of beer for the first two regattas. The following year, Dan and John realized they were on to something and Heineken offered to step up with a generous sponsorship program for a larger event. John describes how Drake Sparkman *, first as Race Committee chair and then as Commodore really got behind the regatta and the HPDO quickly had the full support of the flag officers and club members. "It started to grow very quickly after that" said John.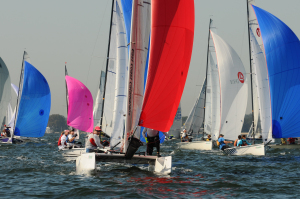 The Vipers showed up for the first time in 2006 and have gone on to grow into the largest class at the regatta. My memory of our first HPDO were the International Canoes and the crazy enthusiasts who sailed these machines. The Clark clan , Steve Clark co-founder of Vanguard and his offspring, had a quiver of canoes that they brought to the HPDO. This epitomized the boat porn that we could ogle at as we walked around the dry sailing area. They never failed to entertain. On the water with the big breeze on, the sight of the canoes screaming upwind with sliding seats fully extended and the occasional spectacular crash was pure show business. On the second day while waiting for the breeze to materialize, we sat on the docks drinking beer watching the canoe sailors as they competed to do verticals, standing on the sterns trying to hold the whole boat vertical as long as possible before teetering into the drink. These guys like to swim!
The regatta continued to gather momentum when Carina McCabe took on the role as regatta co-chairperson with John in 2008. Carina is a very fetching and feisty Canadian who races 5-0-5s and Tempests with her husband Kevin. Carina and John spread the word to more high performance classes. In 2008, the HPDO more than doubled in number as participants grew to 85 boats and then the following year to a hundred boats. This year, against declining regatta attendance around the country, the HPDO set a new record with 125 boats.
Carina McCabe runs with the logistics of the regatta with the efficiency of a school principal herding a bunch of excited children on a field trip. When Carina steps up after the PRO, takes the microphone and bellows out "Now just hold on, I have a few housekeeping items". The sailors stop in their tracks and listen in obedient silence as Carina explains that every skipper has been issued with a yellow wristband: "This is a safety precaution. When you return, hang the wristband on your designated peg so that we know that you have come back safely. If there is a wristband missing, we will be looking for a swimming sailor separated from his boat in the Sound"…….pause….. "and if I find him swimming in the bar then he will wish he hadn't been born" Her radiant smile does nothing to dissuade us that she means every word.
Part of the attraction of the HPDO is that it is just obvious everywhere that AYC loves hosting this event.
October on Long Island Sound has provided seven years of great breeze. Two years ago, it really blew the dogs off chains and there was some spectacular big breeze sailing.  This year a high pressure zone stalled out over the East Coast providing lighter than typical conditions. But the RCs did an awesome job.  On our orange course we were hosted by the energetic Sandy Weil and his team.  They did truly exceptional RC work squeezing in 7 fair and good races on Long Island Sound. Sandy hunted out a small breeze zone, set up 0.7 mile legs, moved windward marks and start line at breakneck speed and got us rolling. As soon as our last boat was across the finish, the new start line would already be set, windward marks dropped and Sandy would roll right into the next sequence. In 10-15 knots of breeze this would be really good RC work. In this weekend's conditions, 5-10 knots with new breeze directions always threatening, it was nothing short of miraculous. Five races on Day One and Two races on Day 2. Day 2 was if anything even more challenging for the RC. Sandy postponed for a finely timed 40 minutes , and then just as a breez e started to roll towards us, the sequence started allowing two races for our circle in the exact weather window before the breeze faded and swung like crazy…"Okay, you can go in now". MVP of the regatta on our course was definitely Sandy Weil.
My final memory of the HPDO this year? We had my Viper out of the water on the trailer packing to go home. The mast is ready to come down. The shrouds are popped off, and I am standing in the boat holding the mast in column ready to lower it to my crew. Then a brand new, state of the art , tricked out  5-0-5 wheels into the parking slot next to mine. "OMG, check it out" says my crew as seconds later they are sticking their head under the foredeck, ogling the retrieval system, admiring the perfect finish and getting a description of the spinnaker gybing system. I'm left holding the mast on my own. But hey it's the HPDO, there is a lot of boat porn here and my guys are only human..
*Drake Sparkman presented the awards at the 2010 HPDO. He passed away a few weeks later from a brain tumor. http://windcheckmagazine.com/index.php?option=com_content&view=article&id=920:we-dedicate-this-issue-to-drake-h-sparkman-iii&catid=92:checking-in&Itemid=417
Photocredits : Sailing Shots – PhotoBoat. Shore Shots – Carina McCabe