Written by John Riddell, Arizona Fleet
"Is this Heaven?"  "No, it's Iowa."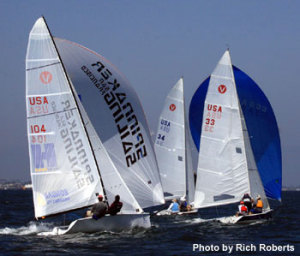 … a simple, yet memorable exchange of lines in a classic movie about the creation of the ultimate playground to satisfy one's dreams.  Well, Field of Dreams was created by a Hollywood studio, Long Beach/Alamitos Bay was created by Mother Nature and it is without a doubt the ultimate playground to satisfy any sailor's dreams, especially if they happen to be racing a Viper 640 on 'C – Charlie Course': a consistent western afternoon breeze, building to 12-18 knots every afternoon under clear, sunny SoCal skies and inside the breakwater of Long Beach Harbor.  Heaven…, why not?
Long Beach Race Week has come and gone, and this year like last, it provided all in attendance with three of the most perfect days of racing for which any of us could hope.  For the Viper 640 fleet, 6 boats were in attendance, a 100% growth from our inaugural visit last year, which gained us not only a fleet start, but further recognition as a growing fleet in the west after many years of a but a few stalwarts keeping the faith in PHRF fleets.
In typical Long Beach fashion, Day 1 racing began with 8-10 knots and finishing strong with 12-18, always clocking to the right as the afternoon progressed, as it would for the following days as well.  Scores were flip-flopping as locals were ready for the "Long Beach afternoons" and others were not, a mistake that would not be made the following days.
Using Day 1, Friday, as a 'learning day', on Day 2 rigs were tuned Saturday AM for the upcoming conditions and the racing became much closer; tacking duels, gybing duels, close calls and just a bit of rubbin' made for an incredibly close day of racing involving the entire fleet.  The stand out of the day, though the scores don't reflect it accurately, was Jeff Young and crew on #33, lovingly nicknamed "Tin Man" for taking on the newly updated fleet with an aluminum rig, an older style bulb and Dacron, yes Dacron, sails.  If it were not for dnc-ing twice due to a ripped kite, the scores of the day, as well as the weekend, would have been very different.  They were fast, fast, fast…!  At the end of the day, sailing this boat is all about heart, and yes, the Tin Man has a lot of heart.  Long live the Tin Man!
Day 3 – Though Morse (#38), the Tin Man (#33), with mended kite and Dion (#31), El Capitan Feroce, came gunning, it was the Viper fleet's west coast resident pro Drew Harper (or semi-pro, or our SF based west coast Rondar rep.  – whatever, he gets to spend way more time on the water than the rest of us blokes…) who took the week.  Being from SF, he had trouble finding the gears the first day, the lightest of the days, and then kicked it into high gear the moment the
wind showed.  Consistent on all points of sail, solid crew work and never afraid to stay a little 'hot' downwind (due to the fact he truly enjoys punishing his young crew), lead to a series of scores that could not be touched.  The rest were never far behind, which we could not have said last year, so everyone appears to be coming along and next year I do not believe we will treat our friends from the north with such generous hospitality.
Speaking of hospitality, a special thanks must be extended to both Alamitos Bay and Long Beach Yacht Clubs.  The sport will have search far and wide before finding a better run event, both on and off the water.  To both clubs, their members and Mangers, thank you.
The excitement surrounding both the boat and fleet continues to grow.  While on shore, all of us sailing the boats were spending a fair amount of time introducing onlookers to the boat itself and to the members of the fleet, which in the end carry more weight as to whether or not a class will make it.  From the group gathered at the LBRW last week, the continued growth of the Viper of the west coast is almost assured, in fact, from early count it appears as though we already have a 12 boat commitment for next year, 2010, with a very real possibility of surpassing 15.  With this, a decision has been made to make the 2010 LBRW the Viper West Coast Championships of the West Coast.  It will be a 'Do Not Miss' event with full guns-a-blazing, in true western style…  Come join us on our 'Field of Dreams'…  trust me, you will agree this might just be Heaven…
Yours truly…
The Guru of Most Things Righteous…
a.k.a. – Mr. Cunningham  (so very sorry Laurent and Luce… ☺)