We continue the "BKAV" series on the Viper class officers with treasurer Tony Chapman, a/k/a "the Road Warrior", "the guy with the funny teal Viper", or just "the British guy with the bandanas."  Tony is one of the mainstays of the Viper fleet in Arizona — yes, there are Vipers racing in the desert.  When the temperatures reach 100 degrees in the summer, that's the signal for Tony and others to hit the road to California, Seattle, and in Tony's case, the east coast.  Tony endeared himself to the class by trekking 2500 miles in 2009 for Charleston Race Week and the NAs in Stamford, Connecticut, and made it to the 2011 NAs in Sarnia (where he finished a strong fifth overall) and 2012 in Marblehead, bringing two other Vipers with him on a triple stack.  If you haven't met Tony yet, it means you're just not being social enough at the regattas, because no matter where you sail, he's probably been at one of your events.  We'll let the IRS ask Tony the hard questions, so here are some softballs in the meantime for the guy who holds the class's wallet…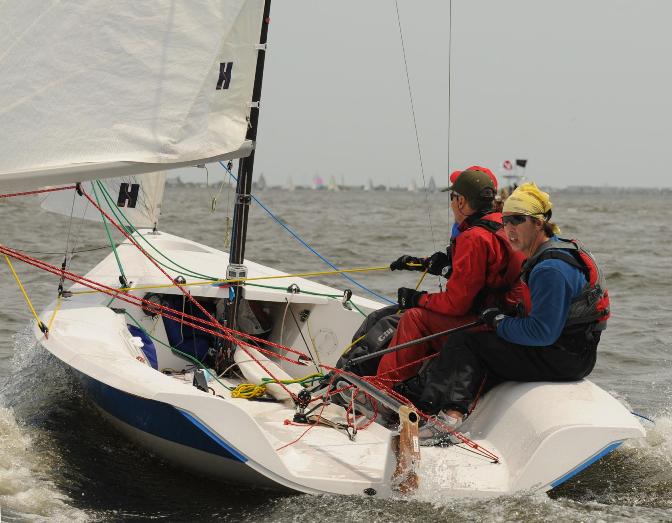 Name: Tony Chapman
Location: Arizona Yacht Club, Phoenix AZ. Local venue is Lake Pleasant (approx 10,000 acres) approx 30 minutes north of downtown Phoenix
Viper currently (or past) owned: Currently own hull # 146. Previously owned #71 – the first Rondar customer production boat.
Tell us a bit more about the origin of the name of your Viper: Still working on a name – Little Wing is top of the list. A classic rock track done by all the best guitar greats.
How long have you been racing Vipers: Purchased #71 in June 2008.
Who introduced you to Viper sailing, and what drew you to the boat: I crewed for Paul Zimmerman and Laurent Dion at an event in Fort Worth, TX in Fall 2007. It really blew and Laurent claims he saw 23 knots on the Velocitek on one down-wind run. I was hooked. I knew that day that Vipers would be a significant part of my future sailing.
What other boats have you raced and when did you first start: I learned to sail in 1999. Started racing keelboats in 2001 and did TransPac in 2003 and 2005. I moved to dinghies and purchased my first boat, a Buccaneer 18, in 2005. I still own it, but it feels neglected and is jealous of the Viper.
Who are your regular crew / favorite people to sail Vipers with: I will sail with anyone that will put up with me!
Tell us about the sailing conditions at your home port — what is it like? Lake Pleasant is one of the prettiest places to sail in the country. It is surrounded by mountains. Come out to our Birthday Regatta / Leukemia Cup event in January and find out.
What do you do professionally: Bean Counter (CPA).
What do you like most about Vipers? The boat and the sailors are fun to be around. There are many different ways to tune and sail the boat and all of them can be competitive. You have to have a plan and execute it.
What is your favorite sailing event and why: Charleston Race Week and Whidbey Island Race Week – they have the best parties and unlimited free rum so you can relax after a great day on the water.
What would you tell a newcomer to the Viper class who wants to get up to speed quickly: Have a tuning plan / speed strategy and follow through with it. The plan needs to reflect your total crew weight / sailing conditions.
Do you have a basic race philosophy: Have fun. Try to have better boat speed than your competition.
What is your favorite piece of sailing gear: Musto Dinghy Spray Top / Pants– the best $'s I have ever spent on sailing gear
Any other sports or hobbies: Running and Yoga
What's most frequently played on your iPod these days? Everything – especially on the road trips across the country. Kelly acts a DJ on our trips.
Read any good books recently? I am just starting Frank Bethwaite's High Performance Sailing. I need to understand the theory behind sailing more. It may also cure insomnia.
What's one thing that you'd want people from the Viper class to know about you that they probably don't: You may want to stay out of my way on the race course if I am on the helm – I have my "blond" moments! If I take a flyer I probably will have absolutely no good reason for doing it so follow at your own risk.
What is the one sailing accomplishment that you are most proud of? Doing TransPac. We won the Tail End Charlie trophy in 2003 (last boat to finish). We did it again in 2005 to show we were better than that and finished 2nd in class. The boat, Pipe Dream, has its name on 2 trophies in Hawaii.
What sails do you use: Currently using Hydes but this may change soon.
What will you do to not miss sailing this winter: Our opening day is Oct 5 so I sail more regularly in winter than in summer. I will not be missing the summer road trips.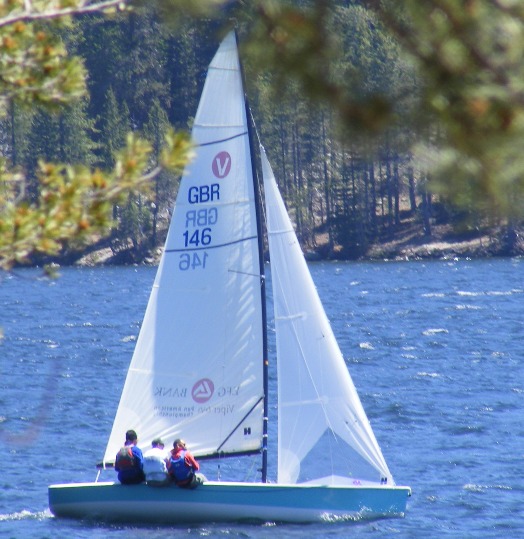 What are your Viper plans for 2013: West Coast Circuit and NA's in Houston.  (photo at left: Tony and GBR 146 racing at Huntington Lake, California, site of the 2013 Viper Pacific Coast Championship.  Photo courtesy a squirrel or a sparrow)
Why did you decide to throw your hat in the ring to become an officer of the Viper class? Being treasurer is an easy way for me to be involved.
What is your favorite part about being an officer of the Viper class? Getting to know other Viper sailors around the country.
What would you like to see the class do more of in the future? Communicate better. The forum is a great tool but it is not for everyone (including me).
What are your goals for the development of the class and of the boat? We need to encourage the growth of the class by supporting / expanding fleets where the Viper is the best sailing option.
Tell us your favorite (website appropriate) Viper story: My current story is how my VW Treg has accumulated 8500 miles in September 2012 doing NAs and San Francisco NOODs. It is a great road trip vehicle, although the gas mileage sucks, especially when triple stacking Vipers.