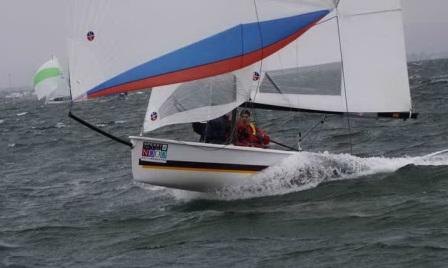 Can you tell that Viper season is nearly upon us?  Hopefully the flurry of activity in the class forums and on the front page of the website in the past week has given some hint.  The season always starts first in Arizona and Southern California, and you can't talk about Viper sailing in those places without mentioning Class Treasurer Tony Chapman and Technical Committee member Tim Carter – both have been major influences on the west coast Viper scene, and Timbo's efforts as a Viper sparkplug has resulted in a big surge in Viper activity in SoCal, along with his home club of Alamitos Bay YC in Long Beach, CA hosting the 2014 Viper North American Championship.  To learn more about the man they call "Timbo," step inside the latest edition of Better Know a Viperer…  (above photo copyright Dennis St. Onge)
Name: Timothy Carter
Location: Southern California, been sailing out of Alamitos Bay YC for 30 years
Viper currently (or past) owned: Started sailing #33 "Happy Endings", moved onto #104 "Viral".  I rolled "Viral" into #149, and am now sailing the 1st USA built-Viper in many years, #187 "Born in the USA"
Tell us a bit more about the origin of the name of your Viper: I named #104 "Viral" because of the groundswell movement I felt in the Class, it was all word of mouth and the sailing was infectious.  B-I-T USA speaks for itself, and I think Paul Zimmerman named her.
How long have you been racing Vipers: I did a couple of PHRF events in 2008.  My 1st Viper fleet experience was the 2009 San Diego NOODs.
Who introduced you to Viper sailing, and what drew you to the boat:  Dave Morse, "Viperdad," shipped the first boat out from Connecticut. The boat appealed to me since she first hit the market, but there were none on the West Coast.  I have always enjoyed a high performance boat, that's where the fun is to me.
What other boats have you raced and when did you first start: My 1st sailing experience was from a trapeze on a Tornado catamaran in 1978, so I have always been hooked on speed.  The first sailboat I owned was an old Flying Dutchman, which I had to glue back together every time I went out. I got very involved with the I-14 class in the early 80's, and was there when we went to double traps and I was the 1st one in SoCal to convert one to a assy in 1987.  Other classes have included Etchells, Stars, Tornados, and Mumm 30's.
Who are your regular crew / favorite people to sail Vipers with: I had a great run sailing with Rachel Ellis from Texas; she always brought a smile and a fun attitude.  Having world class crew aboard like Kevin Taugher from time to time has not hurt either.  Currently working on a new team and enjoying sailing with Tony Chapman.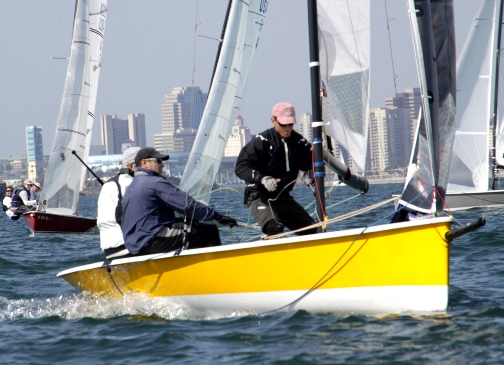 Tell us about the sailing conditions at your home port — what is it like? Long Beach has the best, most consistent breeze on the West Coast; San Francisco will blow harder, just not year round.  It is a thermal driven seabreeze, as the inland empire heats up, the wind kicks in.  Our typical winds from spring till fall are ideal Viper conditions, 12-18+ kts.  We will see 20's, rarely less than 8. We generally sail in an area about 5 x 2 miles, semi protected by a government breakwall, so basically a flat water venue with some wind chop.  Open ocean sailing is right there also, big Pacific swells…ever listen to the Beach Boys? (photo at left courtesy Rich Roberts – Timbo in Viper 149 racing out of ABYC at the 2012 SCYA Midwinters)
What do you do professionally: I am a Medical Radiation Dosimetrist for Providence Health Systems.  I have been involved with Medical Physics for 30 years.
What do you like most about Vipers: The boat, the people in the class, we strive to put fun first and party hard.
Least: Not enough of them out here yet…   😉
Do you have any nicknames besides "Timbo"? And do you like the nickname Timbo? I was first called that at work by one of the docs I work with…I have been called other names also.
What is your favorite sailing event and why: Out here, I find it hard to beat Long Beach Race Week(end)  3 days of great sailing and parties…that being said, there are many events on the East that are on my bucket list, Bacardi, Charleston, HPDO…just not made those yet  😉
How is planning for the 2014 Viper NAs coming along? Apart from being the first ever west coast NAs, are there any special twists that you want to tell people about to get them psyched to make the trip?
It's coming together, hoping to expose my Eastern / Northern / Texan brothers to a bit of the So Cal surf / beach culture… sail hard, party till you pass out.
You've come east for Viper events a couple of times now, probably more than the east coasters have come west. Do you think there's any difference to "East Coast" vs. "West Coast" Viper sailing technique, style, or attitude? Attitude seems the same, everybody loves the boat, and the East has a huge depth of talent pool, numbers and time in the boat.  We are getting there.
What would you tell a newcomer to the Viper class who wants to get up to speed quickly: Spend time with as many different skippers / boats as possible, don't pinch, let the boat roll, and above all else, keep it flat.
Do you have a basic race philosophy:Try to go fast and keep your options open, keep your head out of the boat and avoid packs.
What is your favorite piece of sailing gear? I have an 18-pack cooler I like a lot which fits under the deck.
Any other sports or hobbies: I used to Ski and climb in a previous life, but now, no more ACL's.
What's most frequently played on your iPod these days? Don't own a iPod, but saw I The Who this week, fifth row on the floor, GREAT SHOW!!  So yeah, basic old guy music.
Read any good books recently? I just started reading "Unbroken" by Laura Hillenbrand, bio of local war hero Ernie Zamperini.
What is the one sailing accomplishment that you are most proud of? Designed and commissioned the Viper East / West Coast Champ trophies, then won the inaugural Pacific Coast event.
Why did you decide to get involved with the Technical Committee? I was approached due to my background in other classes; I also think it was a way to shut me up.
The SoCal Viper fleet seems to be growing very quickly. How many boats do you guys have in the area now, and what are the goals for the fleet? We have gone from 3 boats to 18 in 3 years, and more seem to be coming in all the time.  My goals are continued growth, great social events and a kick ass North Americans
What sails do you use: Ullman
What are your Viper plans for 2013: West Coast Circuit, LBRW, PCC's @ High Sierra, Houston NA's.
Tell us your favorite (website appropriate) Viper story: I think the best story was my first trip out to Arizona for the Birthday Regatta.  I was over-served with a personal handle of Mt Gay and my bro Jeff Jones bungeed me to a chair to keep me from falling face first into the campfire.  We went out and got 3 bullets the next day.  I think I could finally focus on the tell tails sometime during the second race..   Thanks again Jeffy!!