If you've been to the major east coast Viper regattas over the past year, you may have noticed a shadowy character chain smoking in the drysail area, doing his best to close down every regatta party, and trying to soak up every bit of Viper knowledge and trivia the fleet is willing to share.  That'd be Paul Zinger, certified sailing addict.  Despite having been coached by some of the greatest sailors of his generation in junior sailing and college, he can often be found where the trouble is, both on and off the racecourse.  The Man They Call Zinger doesn't even own a Viper, using his New York City street savvy to beg, borrow, and burglar other people's Vipers for the past season, skippering several major class events.   How does he do it?  And will he steal your boat next, or your tires?  Let's find out.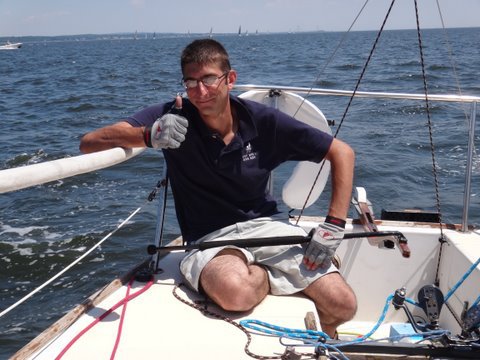 Name: Paul Zinger
Location: New York City / Shelter Island
Viper currently (or past) owned: "Clowns & Jokers", USA 50, the old "Rattler" is actually owned by a good friend of mine, Eric White (Thanks Eric!), who works as Engineer on a Cruise Ship in Hawaii.  He needs someone to take care of it while he's at sea 😉
Tell us a bit more about the origin of the name of Eric's Viper: I was watching Reservoir Dogs and the scene came on when the song Stuck in the Middle was playing in the background.  I thought it would be clever to have Clowns on the Port side and Jokers on the Starboard.  If you know Eric or myself, it's accurate.

How long have you been racing Vipers: A little over a year now, since April 2012.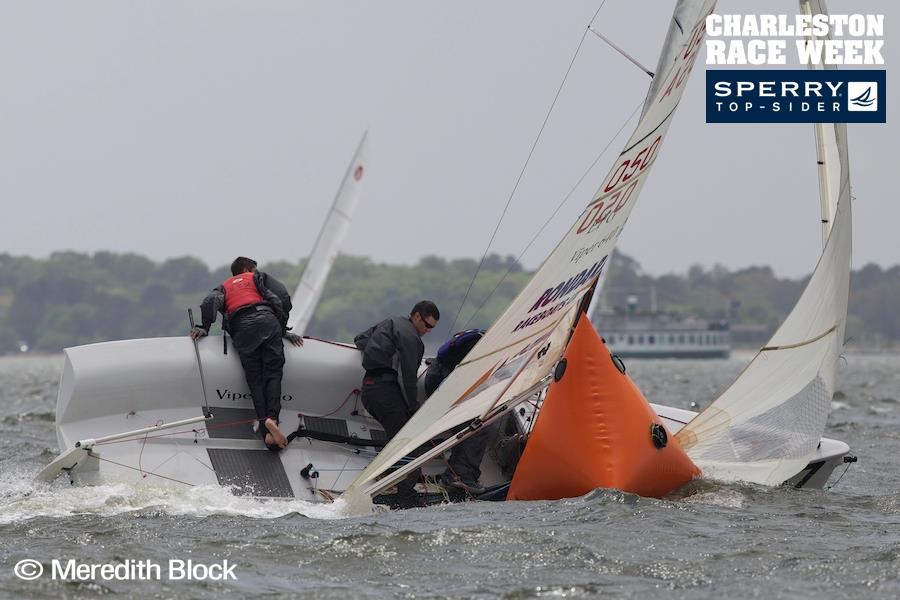 Who introduced you to Viper sailing, and what drew you to the boat:  I went to the US Sailing One Design Symposium in NJ in November of 2011.  I met Justin Scott and Paul Young for the first time.  They were really passionate about the boat and class.  Peter Beardsley in an attempt (which seemed to work) to get me out of the J/24 set me up with a ride with Dan on the Rondar Works boat at CRW2012.  I got hooked instantly. [Editor's note: Vipers weren't the only thing Paul got hooked on at Charleston Race Week, see photo at right, and pay close attention for a link to the legendary video]
What other boats have you raced and when did you first start: Optis, Lasers, I still have my J/24 (it's being severely neglected as of late).  I guess I started when my life jacket was bought 3 months before I was born.
Who are your regular crew / favorite people to sail Vipers with:  Regular crew, working on that one.  I enjoy sailing with Eric or Dan Tucker.
Tell us about the sailing conditions at your home port — what is it like? The J/24 lives on the Hudson River at the 79th Street Boat Basin.  The River has a lot of current.  A LOT!  Shelter Island, also a fair amount of current, but not a lot of chop.  Although somewhat close to LIS, we have breeze more often.
What do you do professionally: Mechanical/Civil Engineer Is there any truth to the rumor that you are the sole heir to the Zingers Snack Cakes fortune? You can't prove that, and neither can the IRS, or my accountant unfortunately.
What do you like most about Vipers:  True One-Design.  As supplied by builder.  Can't change too much.  No need for hours of bottom work and keel fairing.  Easy to set up, easy to tow.  The first time I Drove one on the road I had to keep looking behind me to make sure it was still there.
Least:  The Liver Damage
What is your favorite sailing event and why:  Charleston Race Week: big event, always high participation, great parties, and the view is unbelievable (go downtown at night, you'll know exactly what I'm talking about)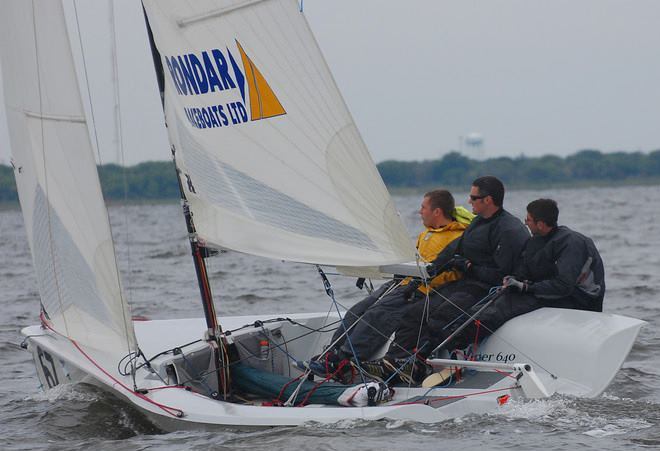 What would you tell a newcomer to the Viper class who wants to get up to speed quickly:  Ask questions!  There are no secrets in the Class.  Everyone is willing to help you and will be more than happy to go over things with you if asked.  The forums on the class website have a lot of great information. [Photo at left: Zinger on the helm.  In breeze, he bulks himself up to intimidate the competition, and to make his crew think he's hiking harder than his 150 lbs would otherwise suggest]
Do you have a basic race philosophy:  Good start, stay in clean air, try not to hit anything.
What is your favorite piece of sailing gear? SLAM salopetts fit me pretty well and are pretty tough.
Any other sports or hobbies:  I have a Beagle who trying to keep under control can be considered both.
What's most frequently played on your iPod these days? Anything but country!
Read any good books recently? I couldn't tell you the last book I read on my own accord.
What's one thing that you'd want people from the Viper class to know about you that they probably don't:  I was never a good swimmer growing up?  [Editor's Note: if you're going to give us that kind of setup, this would be a good time to link to that Charleston 2013 video – first person footage from aboard Clowns and Jokers as they did several terrible things to a leeward mark, some of which are illegal in South Carolina]
What is the one sailing accomplishment that you are most proud of? I wouldn't call it an accomplishment, rather a miracle.  At the 2012 J/24 Worlds after rounding the windward mark I managed to find myself on port in between the Windward Mark and the Offset.  Somehow (I'm still trying to figure this out) I managed to get a boat with a 8.9′ beam in a 7′ hole without incident.
What sails do you use:  Currently the Hydes that came with the boat   Hope to be using a new suit of UKs by North Americans.
What are your Viper plans for 2013:  CRW, New England's,  Bacardi Newport (ACCs), Larchmont Race Week, LIS Champs, CORK, Houston NAs.  Plus 2 or 3 PHRF races near Shelter Island.
When Eric White comes back from several months on a ship in the Pacific Ocean, what upgrades will you have made to his vessel? Three words: pink spin sheets.
NOTICE: No Vipers were harmed in the writing of this BKAV, though there were several close calls.