The Viper 640 class has presidents past and present, fleet captains, sparkplugs and various other dignitaries.  It does not have many commodores, but Pat Gibson is here to change that.  After taking delivery of Viper 152 in early 2011, Gibson also took the top spot at Houston YC, host of the 2013 Viper NAs.  Everything is bigger in Texas, and while we'll all get to know Commodore Gibson a bit better next year, we wanted to get a sneak preview of the man behind the ice sculpture.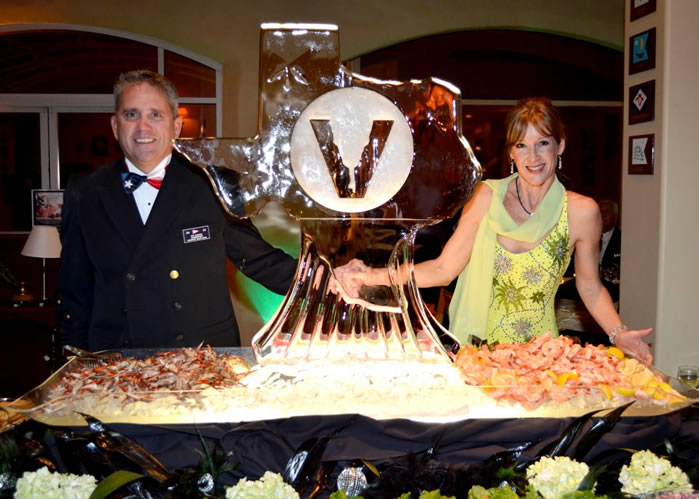 Name: Pat Gibson
Location: Houston, TX
Viper currently (or past) owned — name(s) and sail number(s): 152,  Seco Tu Pelo
Tell us a bit more about the origin of the name of your Viper: Once at aTex-Mex restaurant, we were talking about names of a prior boat. My (now sailing at College of Charleston) daughter who was taking Spanish at the time blurted out Seco Tu Pelo. I asked her what it meant and she said "dry your hair" and it was so random I cracked up. The prior boat's original name had legacy at HYC so I could not change it. When we got the Viper, it just kind of fit.
How long have you been racing Vipers: Since April 2011.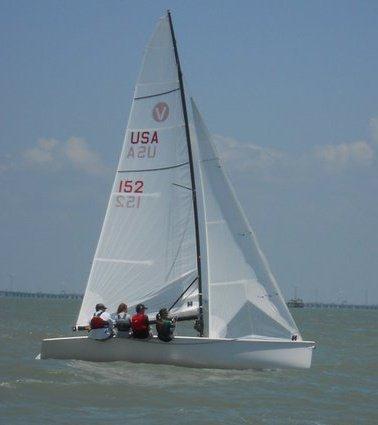 Who introduced you to Viper sailing, and what drew you to the boat: Vipers came to Houston Yacht Club for a regatta and Jeff Jones was offering rides. My wife Beth looked at it and said "get one". Who could say no to that?
What other boats have you raced and when did you first start: Started in high school, so lots of Lasers and just about every J-boat from the 22 to the 145.
Who are your regular crew / favorite people to sail Vipers with: My family crews a lot with me. Wife Beth and Daughter Kayla and now my youngest Halle is wanting to get on board. Reed Baldridge, also now at CofC has also sailed with us a lot. Joe Sircely is one of the original Texas owners and he has sailed with me a bunch too. With everyone going off to school, I am looking for some regulars.
Tell us about the sailing conditions at your home port — what is it like? Houston Yacht Club is year round. Our first event of the year is on New Year's Day. We call it Revognah (hangover backwards). Warm water, good thermal see breeze, 10 – 15+ most of the time and ripping Northers in the winter
What do you do professionally: Exec in the Natural Gas Pipeline Business.
What do you like most about Vipers: Speed, easy to rig, launch and travel. And of course all the other Viperers!
Least: No secret – the current keel box has given me fits
What is your favorite sailing event and why?  Hard to choose. Obviously, I like all the HYC events, MGRW, CRW and bigger fleets. We do a casual series at HYC with pursuit starts and long distance courses it and gets out all sorts of boats. The Viper is among the lower rated so we start last and spend the day catching up and passing most of them. That is good stuff.
What would you tell a newcomer to the Viper class who wants to get up to speed quickly: Sail a lot. Try to have more than one boat out there and practice everything. Wish I could follow my own advice.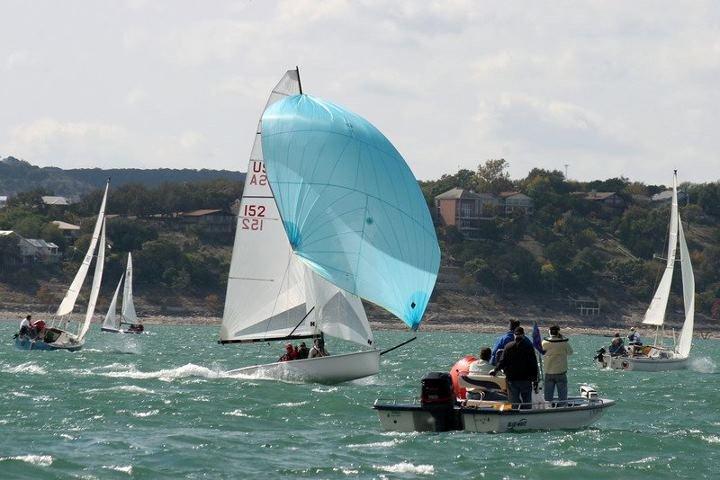 Do you have a basic race philosophy: Clear start, get a lead and extend. One of the first guys I sailed with told me that all the time. But really never give up. Especially in the Viper. Anything can happen right up to the finish line and often does.
Any other sports or hobbies: I have been on HYC's board and Flag and running youth sailing for so long I think I forgot if I have any other hobbies.
What's one thing that you'd want people from the Viper class to know about you that they probably don't: I wish I went to Marblehead. I knew last year that work would not allow it and so there you have it.
What sails do you use: I got the Hydes with the boat. Have a set of Quantums for racing.
What will you do to not miss sailing this winter: Sail. This is Texas man!
What are your Viper plans for 2013: More than 2012. Definitely CRW – gotta see the kid and great venue. And of course the NA's are coming to Houston. The schedule falls in line with a Houston event schedule that would allow people to sail out of HYC for about 6 weeks up to and including NA's. I will work it so the boats can all stay at HYC throughout and ya'll just come and sail. We have lots of parking, big grounds, 2 cranes, 2 ramps and all the fixins. Please make Texas part of your end of 2013 plan.
Tell us your favorite (website appropriate) Viper story: So many to choose. When we went to CRW in April my daughter sailed with me and Sircely on Saturday. After two races she looked at me and said "dad your starts suck – can I drive?" So I let her. Classic!