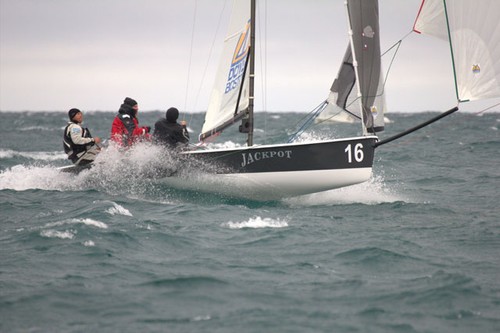 With the holidays here, we decided to bring back the Better Know a Viperer series as a present to everyone in the class and to give folks something to read if they're tired of watching Christmas specials and college football bowl games.  The only natural choice to break this spell was Viper 640 supercrew Lee Shuckerow.  While a co-owner of Jackpot, Lee is most often found in the front of the boat, where he has crossed the finish-line ahead of teammates Brad Boston and Eric Vigrass in each of their three Viper North American championship titles.  To find out what makes Jackpot tick and to address rumors that Lee doesn't know what the tiller looks like, we sat down with Shuck over a pitcher of Labatt's…
Name: Lee Shuckerow
Location: Detroit, Michigan
Viper currently (or past) owned: Jackpot, Sail number #119.  We have a new boat on the way.  [ed's note: the old Jackpot will be racing in the new Sarasota, Florida Viper fleet]
Tell us a bit more about the origin of the name of your Viper: Please watch this You Tube video as it explains it all…
How long have you been racing Vipers: 2009, Chartered a boat for the Charleston Regatta, #77
Who introduced you to Viper sailing, and what drew you to the boat: Tac Boston introduced us to the boat.  Speed at the St. Pete Noods, shit that was fast….we wanted one.
What other boats have you raced and when did you first start: I started when I was ten years old sailing with my old man, Jimbo. Sailed on Cal 25, Ultimate 20, Olsen911, Mumm30, Farr 40, any one design class.  Wherever someone needed good bow, and had drinks, I was there.
Who are your regular crew / favorite people to sail Vipers with:  Brad Boston and Eric Vigrass are my BFF's.  But Scott McNeil and Kevin Thomas lawyer extraordinaire are the best to sail with. (All bow guys)
Tell us about the sailing conditions at your home port — what is it like? Perfect, fresh water, and always varying conditions. Keeps you on your toes.
What do you do professionally:  Master Electrician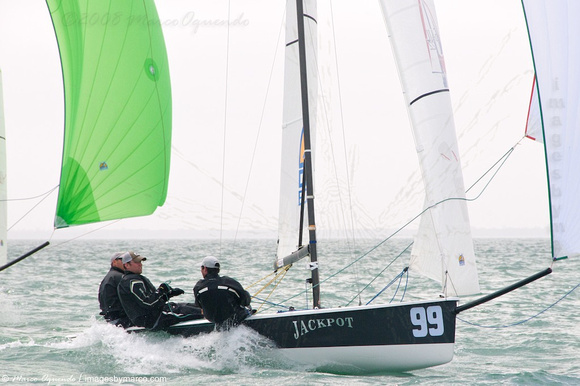 What do you like most about Vipers: Speed, which makes it the most fun to sail. I enjoy the people in the class as well.  When you hit the dock at the end of a hard sailing day, everyone gathers at the dock and has a few drinks to talk about the day.
Least: Everyone always goes straight for the Spiced Rum instead of the cheap beer we buy to hand out. And small dings and dents in the boat that occur during racing. Tough to keep the boat pristine.
Does Brad ever let you drive the Viper?  Any plans for driving Vipers in the near future? Yes, I drive the viper all the time, by the way, I am undefeated when I drive! JK Darren. I enjoy driving but in bigger events I am very good at keeping the boat rolling, changing gears and eliminating problems before they occur.
What is your favorite sailing event and why:  Houston One Design.  Flat water, lots of breeze.  Members were very accommodating, the older members seemed genuinely happy that we were there and having fun.  i.e. They let us drink our face off.
What would you tell a newcomer to the Viper class who wants to get up to speed quickly:  Practice and ask as many questions as possible. You have to get your boat in proper racing form and fix any small problems that can slow you down.  Don't be afraid to talk to the top boats after the races over a captain and coke. Usually the leaders of the day are more than happy to talk about how good they were and how they did it.
Do you have a basic race philosophy:   The idea is to have a good plan for each start, and stick to it.  Win your side.  Sail as CLEAN as you can and laugh your face off around the course.  This is a fun boat and will be rewarding when you sail it right.
What is your favorite piece of sailing gear? Anything I can get for FREE, I will use it.  I used to wear Levis jeans when I was on the bow of some boats.  It was the only thing that stopped the bleeding, and added extra protection on the bow.
Any other sports or hobbies: I am a hell of a street hockey player.
What's most frequently played on your iPod these days? Sexy Bitch feat. Akon & David Guetta
Read any good books recently? The Earth is flat, Electrical Contractor Magazine, Dan Brown books, anything by Steven King
What's one thing that you'd want people from the Viper class to know about you that they probably don't: I put a lot of preparation and detail into the boat, so everything runs fluidly when we are racing. I am always thinking about different situations that may occur.
What is the one sailing accomplishment that you are most proud of? 5 Time National Champion on the Cal 25 "Draco". 3 time North American Champs Viper 640 as well. Fourth in the Mumm 30 Worlds with an interesting group of people on Mummy was great too.
You guys have been fast in Vipers for a long time.  What are the 2-3 most important things that you think you guys do better than the Vipers in the middle of the pack?
1.We show up early to practice to every regatta.
2. When its blowing really hard, we are not scared to go out and practice.  This allows us to understand different weather conditions.
3. To have a properly tuned boat to the conditions with the fastest sails out there.
As one of the most successful crews in the Viper class, what tips can you share with other Viper crews that you think have helped your Viper sailing the most? Can't say enough, practice, practice.  It does so much for a crew.  Sailing a wide variety of boats brings various tricks and tips to this type of sailing as well.
What will you do to not miss sailing Vipers this winter: When I am not sailing vipers, I work as many hours I can, so I can get time off to sail. I might sail Force 5s in the midwinter championships.
What are your Viper plans for 2013: I just ordered a new boat.  We plan to do Mardi Gras, Bacardi, Charleston, Chicago, Sarnia One Design, Newport, Long Beach Race Week, North Americans: Houston, HPDO, there are always other regattas that we like to do if we can fit them in.  Yes, we have a busy schedule.
Tell us your favorite (website appropriate) Viper story: Eric is driving at HPDO.  We round first, it's blowing 30kts.  So we are not sure if we should put the kite up, we are going 14.4 kts jib and main only.  So the 3 of us, Nick Ward, Eric Vigrass and I had a discussion about hoisting the kite.  We decided if someone behind us launched their kite, that we would.  Eventually someone did, so we finally launched the kite, and hit our fasted speed on the Viper EVER.  Our rule now is if we don't put the kite up we should just sail in. For more sailing philosophy from Lee, check out the 2010 interview with Lee at Charleston Race Week: