Next up in our series is Viper veteran Kay VanValkenburgh, better known to some folks in the class as "the really tall guy with the blonde ponytail."  And while that is accurate, you may also soon know him as "Viper Class Governor," since Kay has been nominated by the class's Executive Committee and existing Governor to serve in that capacity.  In advance of the Annual General Meeting September 8, 2012 in Marblehead at the NAs, we wanted to catch up with Kay to find out what makes him tick and whether he has a new Viper world order planned…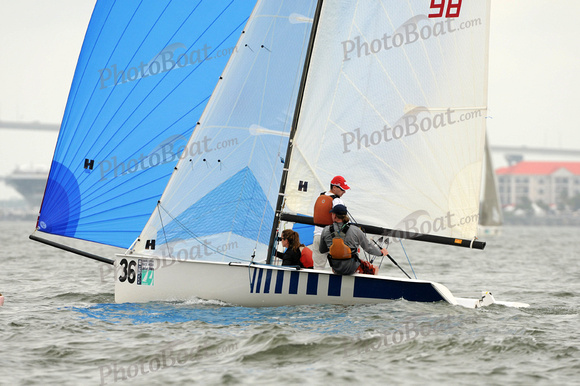 Name: Kay VanValkenburgh
Location: Boston, MA
Vipers currently (and previously) owned: 28 Qirq (first), 74 Qirqii (briefly), 98 Lo.qi (current)
Tell us a bit more about the origin of the name of your Viper: the Viper is my first boat – I attributed my early successes and difficulties to 'quirks' of the boat; a quirky spelling first of quirk (Qirq) appealed to me as a name. When we bought the new boat, Karen and I wanted to continue the theme with a quirky spelling of Loki (Norse god of mischief) and named it Lo.qi.
How long have you been racing Vipers: since 2000
Who introduced you to Viper sailing, and what drew you to the boat: I moved to the Boston from Lyon and needed to get out on the water. I crewed with Dana Seero on 50 for a summer; he convinced me that owning was incomparable, and that if I wanted a local fleet in a fun, fast boat, there wasn't an alternative. As soon as he let me helm, I knew he was right on both counts. Ever since Dana traded his boat for newborns (the year after I bought his story), I've been pedaling the snake oil I inherited from him.
What other boats have you raced: Before the Viper I'd only raced as crew on other people's boats, and even that was infrequent. Once I owned a Viper, I couldn't get enough of racing. Since I couldn't convince Viper owners to sail year-round, I bought a beat up Laser and started frostbiting as well. I've raced nearly every week since, whatever the season, compelled by some urge I (frankly) don't understand.
When did you first start: I learned to sail one summer on a whim in Boston (a city I'd also chosen on a whim) – Community Boating on the Charles, a great program. After sailing every day that summer, I feared I was bored with sailing. I didn't discover racing for a while, but once I did I was hooked.
(Right: a rare moment where Kay is hidden behind the crew on Lo.qi)
Who are your regular crew / favorite people to sail Vipers with: Karen, my girlfriend, was new to sailing when we first met. Winters are out of the question for her, but I couldn't feel luckier all summer that we get to sail together every week. She's the competitive drive on the boat.
What do you do professionally: Software training and development.
What would you tell a newcomer to the Viper class who wants to get up to speed quickly: don't spend time on shore washing and fiddling with things – spend all your time on the water! Sail alone, in pairs, with 8 on the boat for a picnic. See the boat in as many situations as you possibly can – and with the spinnaker up, constantly test for that point where the boat just starts to heel then soak down!
Do you have a basic race philosophy: constantly prioritize and rotate your focus through the top 4; upwind it's 1) traffic, 2) pressure, 3) shifts and 4) trim
Any other sports or hobbies: an endless list, though work and volunteering limits everything but sailing.
What sails do you use: just bought a suit of Doyles – very different from the Hydes we've had for the last several years.
What will you do to not miss sailing this winter: frostbite my Laser – I'm the fanatical one who wants to go in all conditions.
What are your goals as class governor: diversify the Viper fleet (owners and leaders) – the low cost and ease of owning the boat, not to mention the broader wind range in which you can have fun, make it ideal for introducing a broader range of people to sailing
What are your Viper plans for 2013: race the heck out of our local series and reignite the excitement around the Viper in Marblehead again.