If you're new to the class, you may not realize that there are Viperers in Missouri.  Sailing in the "Show Me State" means you need to be a bit flashy to get the attention of Cardinals fans and others who don't see much water, which is where Joan Hall comes in.  Joan was a Viper pioneer, owner of one of the first Rondar-built Vipers, and perhaps the second female Viper owner in class history several years ago.  Her bright orange Viper named "Tangerine" turns heads on Lake Carlyle in Southern Illinois and on the front page of viper640.org, where it was featured in the photo slideshow for years.  If you see this Viper veteran on the water as part of the Great Lakes circuit this summer, you should do your homework, and Better Know Viperer, Professor Joan Hall…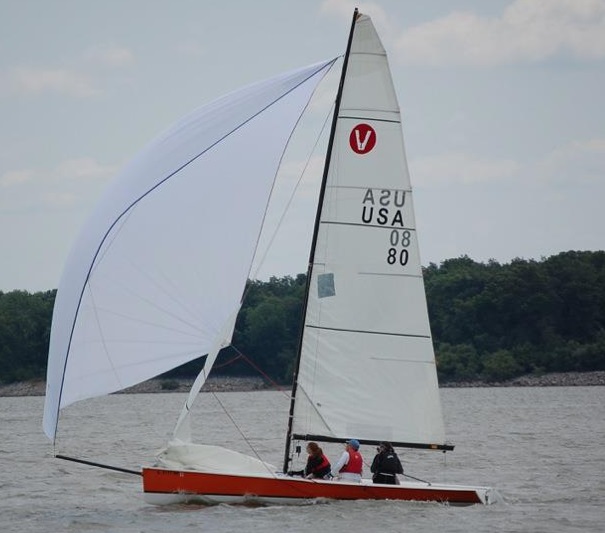 Name: Joan Hall
Location: St. Louis, Missouri, and Lake Carlyle, Illinois
Viper currently owned: # 80, Tangerine.
Seriously, an orange boat? I ordered a white viper in 2008, but orders from England were behind and I was worried about trying to pick up my Viper before I had to go back to teaching college.  I got a call about a Viper held up in customs in Jacksonville, Florida.  The owners wanted out of the sale and I was offered her at the same price as my "white" Viper. (I was always told to buy white so it blends in with the other boats at the starting line.)  So I owe its color to the original owners!!  Who are you?  I was afraid I was going to get a Halloween boat, its colors I would never order, but put her on the water and she was beautiful!! It did put a damper on the name I had in mind, and I owe the name Tangerine to Tom Leith my crew. We are attached to that little orange boat now.
How did you decide to get involved with Viper racing? Eric Eaves, a fellow J/24 sailor, bought a Viper the season before and talked me into buying one – but I never sailed it, just took his word for it. I told my crew if they could sell the J/24 for a good price I would buy a Viper. All the other J sailors took at least 2-3 years to sell their boats – so I figured no sweat I had time, but I sold mine in a few months – all Tom Leith's fault, he advertised the boat when I was in Europe!!
Tell us about your first time sailing the boat: I bought my viper in 2008, got a few sails in at the end of the season. I drove to Atlanta to meet Brian Bennett who drove a Triad trailer to Jacksonville-trying to beat the hurricane!!  (The only way it was to be released from customs, they didn't like the trailer without a VIN number). We made a deal that he could demo the boat in Atlanta and I could get a free lesson — best few hours of a lesson I ever had!!! My first sail on that boat was in 20+ knot winds and it was more about survival, not getting to know the boat. The next day was much better.

What other boats have you sailed? I started racing in Ohio when I was 16 on a little eight-foot home made boat, then I raced a Sunfish, a windsurfer and a US1, a Y Flyer, a Hobie 14, a Lightning and offshore sailed on a Swan 391.  My real loves before the Viper were the Star boat and last my J/24.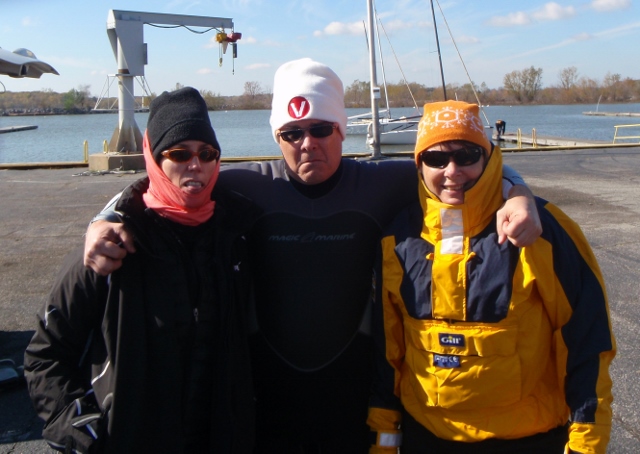 Who do you sail with on the Viper? Tom Leith is a regular — we used to race against each other on Starboats. When I started racing the J/24 I made her the "chickboat" and only raced with women.  I was and still am the only female skipper in the spinnaker, sportboat fleet [on Lake Carlyle]. There are other female skippers, just not in the big boats.  One day I realized if anything happened to me no one on board could safely take us back to port, so I asked Tom to sail as the "Fat Chick."  We thought that was pretty funny. I used to make t-shirts for guys that said chick-for –a –day which were dated if a guy was a substitute crew. Our favorite saying on the boat when we flew the spinnaker was "Blow the Guy". Yup, we had fun with that one!!  I also sail with fellow artist Peg Fetter and our youngest member Rochet Huffman, who grew up sailing on the lake where we race. [Photo: Hall (right) with crew Peg Fetter and Tom Leith]
Tell us about your home port and inland sailing.  Our home port is Lake Carlyle, Illinois.  It is a watershed lake for the Mississippi – 10 miles long and about one hour from St Louis where I live. We are called the "Muddy Water" sailors in Chicago and some international sailors hail from this port.  It's really hot in July and August – 100 plus degrees and light air. No one leaves port without water – on the Viper that means freeze it!! May and June, and September and October are the best months.
What do you do professionally? I am an artist and professor teaching sculpture at Washington University in St Louis.  So regattas outside of the summer months are impossible (only down side).  My work Is informed by my concern over plastic in the ocean and the pollution of our environment – check out my website, joanhallstudio.com. No, I never sculpted a Viper, but I make all my own paper, so I play in water, work in water and am inspired by water. I think the first time I raced off shore (Newport-Bermuda) and was out of sight of land I was in awe at the beauty. Some of that beauty I want to bring into my art.

What do you like best about sailing Vipers? It is the only boat I ever owned that I sail up wind in order to go downwind. Total blast now that I don't broach every time I gybe-we finally got that under control!!  It has been quite the learning curve from a J/24, but I am tenacious.  I scare my crew less these days. Considering the first windy day I sailed the boat I sat on the tiller extension, bent it and broached the boat at least 8 times.
Have you made any upgrades to the boat? Over time we have improved and now Tangerine has a green spinnaker – it was a bet with my crew. If we had a perfect race the next spinnaker would be green (their request). I hate the color green.  Well they sailed a perfect race and to add icing on the cake, executed a perfect gybe under a J/105 at the mark (no talking even).  They sure looked big from our point of view breathing down our necks!!  See on Lake Carlyle, we race with all the keel boats since the sport boat fleet (the two Vipers and a Melges 24) are small.
What are your favorite regattas? On Carlyle Lake, the "Whale of a Sail". It is a tradition around mid September, and signifies the beginning of cooler weather. It is a lake wide event and great fun. I have not had the chance to travel much with my professional schedule lately, but I am hoping that will change soon.  I loved Charlestown Race Week in 2009, but it was tough for me to get back there because of when it is held.  I finished dead last, ran the boat aground and ended up with 7 stitches from a whack by the boom – but who cares, what fun!!
What is on your iPod? My iPod likes Bruce Springsteen, and Calexico and throw in some Leonard Cohen.

What are some books you enjoy? A couple of great books, Plastic Ocean and The World is Blue.

What do I want the Viper Class to know about you? I might not race as seriously as many of you, but every time I go out on the Viper, I get a smile on my face.  Come race in the Midwest, we have some pretty great sailors here.  My favorite sailing accomplishment was to sail from Antigua to Florida one summer and to race Newport-Bermuda.
Any big Viper plans for 2013? Hope to get up to Chicago for a little Viper meet up and I would like to sail with the Texas group in June.