Several people have requested that this guy be profiled for a while now…not just *that guy*, but the f***ing new guy, Dr. Jim Sears.  Jim may not be the new guy anymore now that he's had his Viper for two years, and he certainly doesn't sail his Viper like the new guy, taking podium places up and down the west coast in 2012, including a first at Long Beach Race Week, second at Mardi Gras Race Week, and third at Pacific Coast Champs.  Jim is talking about bringing his west coast style (and Viper) to the east coast this winter, starboard tackers beware.  If his mug looks familiar, you're watching too much daytime television (though in Jim's honor, if you're watching, don't change the channel).  As far as we know, Jimbo is the only Viper sailor who is also an Emmy nominated television personality (dare we say star?), and if you didn't know that, then you better get to know Jim…
Name:  Dr Jim Sears
Location:  Long Beach, Southern California
Viper currently (or past) owned: F.N.G. #148
Tell us a bit more about the origin of the name of your Viper: I wanted to come up with something that would sound good when "mumbled" by the competition as I crossed their bow.  I had this nickname when I was the F#ckin New Guy at the newspaper folding job I had in high school.  Now that I've been in the fleet for almost two years, people are saying I should change the name… But we just got crew shirts and jackets, so it's staying!
How long have you been racing Vipers:  Ordered it for Christmas a little less than 2 years ago.  First regatta was Long Beach Race Week '11. (photo at right: What a difference a year makes at LBRW: Keith, Gina, Jim and Evan)
Who introduced you to Viper sailing, and what drew you to the boat: I ordered my boat without ever stepping foot on one, I just knew that it was the boat for me!  I wanted something fast, fun, and easy to travel with.  The Viper seemed like something that Gina (my fiancé) and I could sail together. I checked out the Viper website, and saw that a lot of boats sail with mixed crews, so I was in.  After ordering my boat, I then sailed with Timbo Carter for 2 regattas and knew I had made the right choice!  Something else that drew me to the class was the active traveling schedule out here on the west coast.  There was a fun regatta to do just about once a month!
What other boats have you raced and when did you first start:  Started sailing when my dad bought a beach cat when I was 5 and the family spent two years careening around Toronto harbor out of control!  At 7, I got a Laser, but I didn't weigh enough to right the thing, so I only could go out on light days or get my dad to hike for me!  Since then, I've raced just about everything.  In fact, I've kept a list of boats I've raced organized by length – corresponding to my age.  Each birthday, I update my list.  Evelyn-32, Hobie 33, J/34, J/35, Lancer 36, Express 37, IMX 38, etc, (you get the picture).  Hope I make it to 80 so I can add Kialoa V to the list!  Most of my racing has been in Lasers, Lightnings, I-14s, and keel boats in the 35-38ft range.  Just got an F-18 catamaran, so I'm back to the "careening out of control" thing!
Who are your regular crew / favorite people to sail Vipers with:  Up front is my lovely fiancé Gina.  She was new to sailing when we met, but has been having tons of fun learning. Our main middle guy is Keith Magnussen from Ullman Sails Newport Beach.  I started racing with K-Mag about 20 years ago and he's done a great job developing some really fast sails for the Viper.  He also puts together some great videos of our adventures!  When Gina can't sail, our other main crew is my long-time Lightning team-mate, Evan Hoffmann from San Diego, currently sailing for Old Dominion.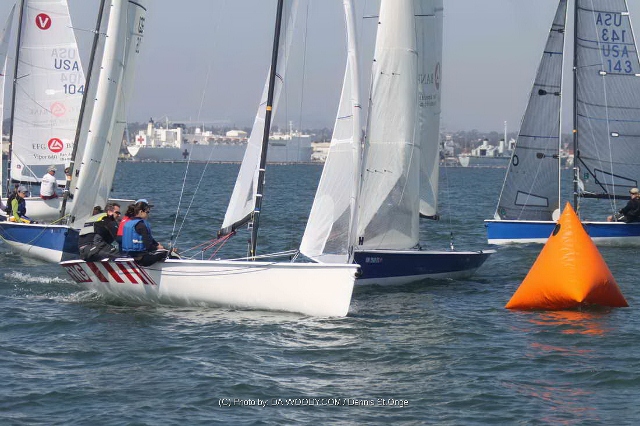 Tell us about the sailing conditions at your home port — what is it like?  Long Beach:  Very reliable sea breeze 15-20kts most afternoons.  Nice flat water inside the breakwater makes for some great rides downwind!  Great place for a regatta with lots of fun night life on 2nd street and Shoreline Village.  2014 NAs is going to be EPIC!
What do you do professionally: Pediatrician and co-host of Emmy Award-winning talk show The Doctors.  For anyone that doesn't watch, it's like The View, but with four doctors.  I have tons of fun doing it, but the only drawback is that we tape on Thursdays and Fridays, which makes 3-day regattas a challenge.
What do you like most about Vipers: So much more comfortable than most other boats I've sailed.  After a Lightning regatta, my legs would be all bruised up from scrambling across the centerboard trunk.  A Viper is still a joy to sail upwind in big breeze, and then is totally orgasmic when you turn the corner and put the kite up!
Least: No trapeze 😉  Actually, wish the class had adopted the open mainsheet rule.  If we weren't going to stay one-design, then why not open it up?  I gave a yes vote to #1 for those guys that wanted the old system, but it would have been nice if those same guys had also voted yes on #2 so I could use the system I wanted.  I had been using a very nice 3:1 purchase in back of boom, with mid-boom turning block moved way forward.  Same system as on VX and was SO much easier to trim in big breeze, and left more than enough room to tack the tiller extension.
What is your favorite sailing event and why: I like the long events, like NAs or Whidbey.  I like to feel like I'm on vacation when I'm at a regatta.  4 or 5 nights to explore the area and find good restaurants and bars.  That's why I'm really going to try to make Miami this year.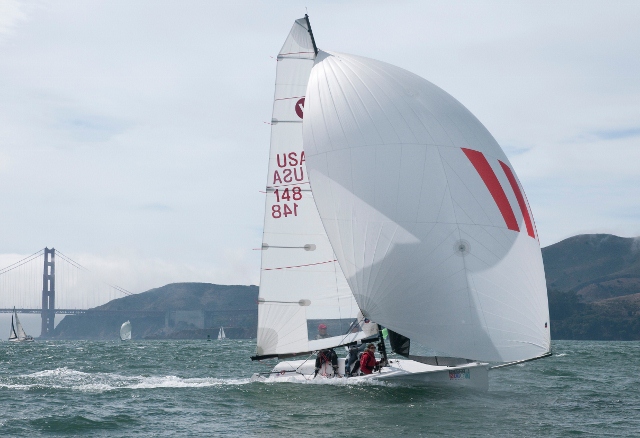 What would you tell a newcomer to the Viper class who wants to get up to speed quickly:
1) Crew for a fast guy:  While my boat was getting built, I crewed for Timbo in 2 regattas.  This was INVALUABLE experience as I got to see all the nuances of the Viper and Tim's speed tricks; how to avoid shrimping, keeping boat flat during hoist, etc.
2) Copy the fast guys:  Once I got my boat, I set it up just like the fastest boats out here.  I bought the same sails, had same forestay length, same spreader length, same base rig settings.  Out on the race course, these guys were happy to share what rig tensions and jib lead positions they were using before the race.  After the race, we would then share any adjustments that were made that helped/hurt performance.
3) Swap positions:  Let your crew drive for a race or the occasional regatta.  Everyone LOVES to drive the boat, and is a great way to understand the needs of each position.  Also a great way to keep good crew.
4) Be your own coach: Stick a GoPro on the end of your boom or back of the boat.  When I watch my footage, I get to see what a terrible job I'm doing at keeping boat flat, moving the tiller too much, not hiking enough, letting go of mainsheet during tacks, etc, etc, etc.  You can see what a good tack/gybe looks like, and compare them with the bad ones.  You might even get some great footage to share later.
Do you have a basic race philosophy: I'm big on pre-regatta prep: researching local wind conditions, currents, etc.  I try to stay cool and quiet during the race and let K-Mag do all the yelling.  Also big on practicing our boat-handling.  Going into a crowded leeward gate, I NEED to feel confident that we'll do it better the other guys.
What is your favorite piece of sailing gear?  My NASCAR #31 Jeff Burton hat!  When I wear that on the race course, other boats tend to give me a little extra room, because it makes me look like I don't know what I'm doing!  I call it my un-timidation hat.  Then when I pass someone, it's funny to hear the other boat say, "Damn, we just got passed by that yahoo in the Nascar hat!"
Any other sports or hobbies: Kite Boarding (love that speed!) and cycling.  I try to ride about 5 days a week, and it helps me stay in good sailing shape.

What's most frequently played on your iPod these days? I've been alternating between the Johnny Cash and the LMFAO stations on Pandora.

Read any good books recently?  James Michener's Hawaii and Caribbean.  Both are great reads and give some really interesting insight into two parts of this world that I love.
What's one thing that you'd want people from the Viper class to know about you that they probably don't:
I also do musical theater as a hobby!  Favorite roles have been Rooster (Annie), Cowardly Lion (Wiz of Oz) and Harold Hill (Music Man).
What is the one sailing accomplishment that you are most proud of? 2011 Transpac!  It was on my bucket list for most of my life and to finally get it done was an amazing experience.  I went on Ed Feo's (Viper #104) Andrews 45 LocoMotion, which is really just a big Viper.  The last 3 days are EXACTLY like flying downwind in a Viper in 20kts and waves – pure adrenaline.  Seeing Diamond Head appear on the horizon at dawn is probably one of my top sailing moments.  After we crossed the finish line and sailed past Hawaii YC with all our friends and family cheering, I unrolled a giant banner asking Gina to marry me!  Lots of great partying for the next 3 days!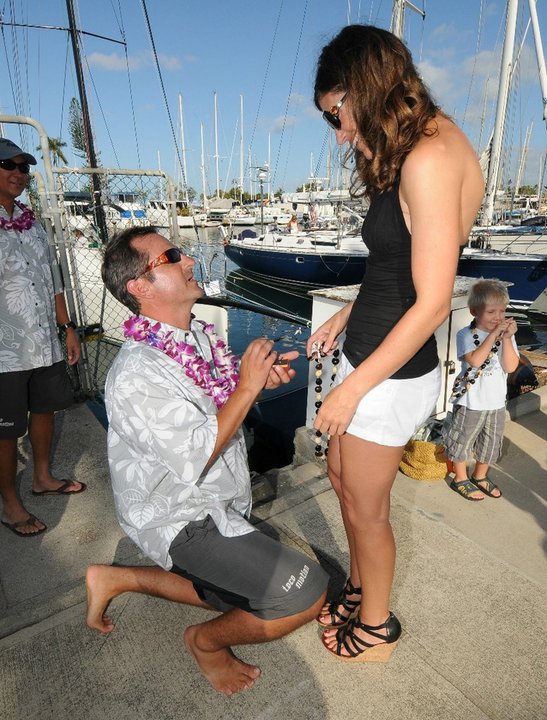 "Gina darling, will you marry me?" / Only if I can trim kite and call tactics on the Viper at the 2013 NAs. / "You got it."
What sails do you use: I went with Ullman because that's what the other top boats were using out here.  I've known those guys for years and know its a great loft.
What will you do to not miss sailing Vipers this winter: Not sure I understand the question???  Oh, WINTER!  Yes, I've heard of that!  That's the nice thing about So Cal: you can drive an hour into the mountains to get your winter fix.
What are your Viper plans for 2013: Last year was a big travel year for us with New Orleans and Whidbey.  My current shooting schedule looks like it'll be hard to make it out east for anything except Houston.  We are putting together a great schedule for the west coast circuit, so plenty of fun to be had out here.  Really want to get to Miami, but I would have to miss the Thursday/Friday of Bacardi… Still would be a fun trip, though.  Now that Ed Feo and I have the big multi-boat hauler, it makes traveling easier.
Tell us your favorite (website appropriate) Viper story: Last year's Turkey Day regatta at ABYC:  One race we missed the start by a few minutes and were WAY behind.  Working really hard to catch up, trying to read the shifts and puffs, things were really intense on the boat.  Tacking on every little header, staying in the puffs, we were trying everything.  Gina was looking upwind for a while, and finally said, "hey Jim…"  At this point Keith and I were expecting her to give us an observation about what the fleet was doing ahead.  Instead, she continued with, "I was thinking that if we have your parents over for Thanksgiving, we could make the turkey and they could bring dessert…"  WTF?!?!  We both started laughing!  Ever since then, if things are getting really intense on the boat, I'll say something like, "you know, I think we should use the orange placemats for our next luncheon…"  It's a good way to break the tension!