So many people have requested that the Viper class profile Jeff Jones that we couldn't ignore it any longer.  It's very possible that Jeff is the most prolific Viper owner in class history, having owned four boats and restored several others for the benefit of the Texas Viper fleet.  As a true Texan, he is a larger than life character — the first one to rig and launch on days when weaker hearted (and weaker livered) sailors stay ashore, starting post race parties where none existed, and antagonizing past class presidents on a variety of internet message boards.   The Viper class is a larger and more interesting place to sail thanks to Mr. Jones, but for the newbies on the coasts, you may not yet know this wily coyote.  So here we go…
Name: Jeff Jones
Location: Belton, Texas (a small town 60 miles north of Austin).
Viper currently (or past) owned: #102 Animal, #129 Animal – both past. #31 and # 58 also both Animal, current.
Tell us a bit more about the origin of the name of your Viper:  Back in the late 90s I owned a Viper 830. The conditions were pretty extreme the first time on the water. Kite went up, mast went down – back up and then we were off. Guy sitting next to me said "Holy %#$@, this thing is an ANIMAL! So the name stuck. I've also been called an "animal" several times – those situations usually involved alcohol. Enough said?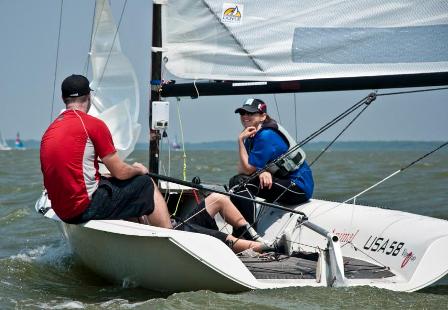 How long have you been racing Vipers:  Since 2009
Who introduced you to Viper sailing, and what drew you to the boat: My son had just turned 9 and I wanted to get him involved in sailing (with myself and my wife together as a family). Felipe Payet was kind enough to let us take his viper out one afternoon for a test run. We'd taken Owen out on other boats (J/22s J/80s) and he seemed more interested in messing about below than sailing. That wasn't the case on the Viper. I think Carrie and I knew this was the right boat for us after 5 minutes on the water. He was engaged and the cockpit kept him within arms-reach at all times, as opposed to a larger or legs out boat.
What other boats have you raced and when did you first start: I started sailing after I graduated high school in 1991. I refurbished an old Laser my father had, and joined our local sailing club on Lake Belton. I've raced Lasers, 505s, J/22s, 24s and did a bit of time on a few larger racer/cruiser type boats.  Nothing too intense, mostly goofing off with other weekend warrior types.
Who are your regular crew / favorite people to sail Vipers with: Most of the time I sail with the boss (Carrie) and 13-year-old son Owen.  When I can't be on the water with the family, I usually sail with longtime friend Geoff Arnold "aka –Arnold" and Drake "Monkey" Borer. Those guys are sick fun and we have an interesting dynamic. I can be a bit hyper (shocker… huh?) Arnold balances me out with his indecisiveness and Drake tells jokes. If you don't see us on the course, you'll hear us.
You sail Vipers with the family a lot — when is your son going to start driving regularly? Being able to spend that time with Owen – out on the water away from the distraction of daily life is amazing. Re: driving, the only sailing Owen has ever done has been with Carrie and me. He's starting to get the hang of driving but really enjoys crewing more right now.  He's strong enough to do anything on the boat now, and in a few years we might break the 500 lb. mark.  You'll probably see him in the back of the boat this year at some of the local regattas.
Tell us about the sailing conditions at your home port — what is it like? We split time between inland lakes and Galveston Bay. Lake sailing means flat water and very shifty conditions – especially in the summer months.
What happens when people "mess with Texas?" Is this more than an idle threat used to scare northerners and Brits? As you know, the phrase "Don't mess with Texas" began as part of a statewide advertising campaign in 1986 by the Texas Department of Transportation. We take that pretty serious down here. First time offense is 200 – 500 bucks. Second offense could cost you $2,000.00; or land you in jail. If you're a Yankee or have a funny accent (lack of drawl) you might consider slapping on a bumper sticker showing you support Second Amendment rights – that'll save you some grief.
What do you do professionally: Sales/engineering for a company that supplies air pollution control systems – and manufacture a number of composite products.
What do you like most about Vipers: That's a difficult question. I'd have to say it's split between being around the group of people who sail them and how much fun they are to sail.  I've always enjoyed the energy and grass-roots sales model.
You've fixed up a number of Vipers over the years. Where do you have space to do this, and what have been the easiest / hardest repairs that you've done? We own a big facility here in Belton. Easiest repair or upgrade would probably be converting the old roller to a curved bar in the launcher of a Bennett boat – most difficult or most time consuming was a full-blow strip and rebuild of 31. I took that boat down to bare glass and went back with an epoxy bottom and awlgrip topsides/deck.
How do you feel about the proliferation of crazy graphics on Viper spinnakers given that you and your friends were among the original proponents of this trend? Love it! I think it shows how much personality this group has. Monkeys, animals, ducks, pandas, rum-toting seals…. pole dancers? Off the top of my head I can think of about a dozen "unique" kites. How cool would it be to get a shot of all those spinnakers running down-wind together in a breeze. [Editor's note: it would be cool indeed.  Someone in Houston should make this happen in October, even if it is a staged shot].
What is your favorite sailing event and why: Wurstfest regatta on Lake Canyon. Not the best sailing conditions, but I've had some really great times down there. Everyone camps on the yacht club lawn. The regatta is run in conjunction with a 10-day German festival in downtown New Braunsfuls. It's a two weekend regatta, keelboats on the first weekend – centerboards on the second.  Although I've really had some good times these past few years at the HYC HOOD regatta too — Gibson and his gang down there are sick fun.
What would you tell a newcomer to the Viper class who wants to get up to speed quickly: Find a veteran like one of the Jackpot boys and get them to sail with you.  Guys like that – who know all the tuning and boat handling tricks– can really help.   The Viper is a very flexible boat in that you can make it comfortable to sail and fast in just about any condition under various crew weights.   The class has done a great job with the chalk-talks but there's nothing like having someone on your boat helping you get up to speed.
Do you have a basic race philosophy: For me, racing sailboats is about stress-free fun.   I don't get too wound up when things are going bad – or too excited when things are going well.   In terms of general strategy, I sail like there's nobody else on the course.  Just go the direction you think you should be going – as fast as you can.  I also don't get caught up in boat on boat stuff unless it's close to the finish (or unless it's Justin I guess).