If you're in the Viper class and you know Doug Stumberger, then either:
You're from Seattle; or
You pay incredibly close attention to class activities and get a gold star.
Doug owns the newest Viper in the Pacific Northwest, seen here (below) picking up Viper 174 in late 2011 from Garrett Greenhalgh of Spinnaker Sailing. Doug may be too new to have pictures of him actually sailing his Viper, but we promise it's happened, as we met at Pacific Coast Champs at Whidbey Island Race Week this summer.  He has however, been around long enough to learn from past class president Justin Scott that it's ok to drive 800 miles with an all white Viper and no bottom cover (though not long enough to be fully indoctrinated into the school of psychedelic West Coast Viper gelcoat hull colors).  Doug is also a sailing blogger and a thyroid cancer survivor.   Unless you also have a trip planned to the greater Seattle area, you may have to wait until the 2014 NAs in Long Beach to meet Doug in person, so in the meantime, you'll have to click on the article to learn more…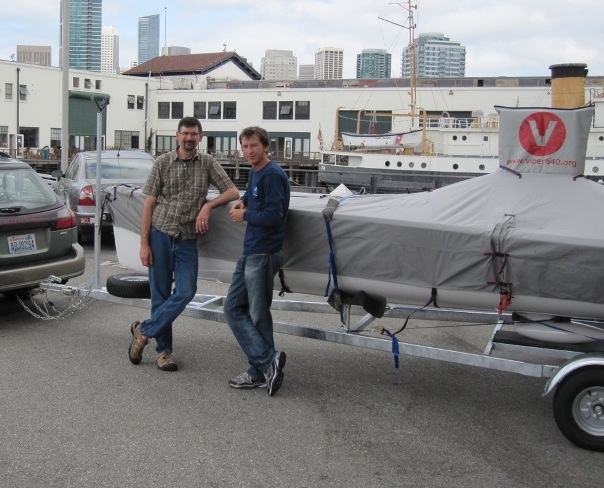 Name: Doug Stumberger
Location: Seattle, WA
Viper currently (or past) owned — name(s) and sail number(s): 174
Tell us a bit more about the origin of the name of your Viper:  Purchased from Rondar in the UK through Drew Harper in San Francisco with help from Chris Winnard here in Seattle.
How long have you been racing Vipers: 2012 was my first season of Viper racing.
Who introduced you to Viper sailing, and what drew you to the boat: I'd been watching the small sportboat market heat up over the past few years and knew I wanted to get involved. What drew me to the boat was: (1) critical mass particualrly on the west coast in terms of number of boats racing; (2) a solid builder, an active national class association, and clear one-design rules; (3) lower costs for both boat acquisition and campaigning compared to similar boats. I actually purchased the boat without ever having sailed a Viper — the boat fit what I was looking for and I'm super happy with it. What I didn't know at the time was how dinghy-like the boat would feel in the water, which for a dinghy sailor [like me] has made the transition more enjoyable.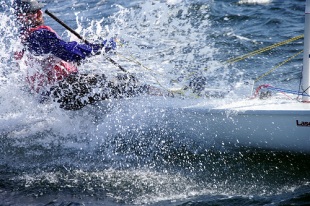 What other boats have you raced and when did you first start: I started racing in the 1990's, first in J/24s and then for the last fifteen years in Thistles. I've owned a succession of Thistles that I've primarily raced in the Pacific Northwest. The Viper is the first keelboat I've driven since 1997 and the first asymmetric kite boat I've ever raced.  (editor's note: Doug also sails Lasers — that's him above)
Who are your regular crew / favorite people to sail Vipers with: I've raced with my folks from up here in Seattle — Michael O'Brien (Laser), Curtis Rozelle (big-boat & dinghy sailor), Laura Bolin (Thistle, Flying Scot) and Dwaine Trummert (Thistle, Laser).
Tell us about the sailing conditions at your home venue — what are they like? First, we're mostly PHRF in our home waters this season, but I'm hoping that will change as the fleet grows in the PNW. Conditions in the northwest in the summer regatta are generally pretty light (except for the Columbia River Gorge). Most of this season we sailed in 6-14 knots. The good news is that we can sail all year long, which meant I could get some solid practice in last winter to come up to speed on the boat.
What do you do professionally: Part-time web developer and software marketing, full-time stay-at-home Dad.
What do you like most about Vipers: The boat is a blast to sail — it's responsive, fun, and obviously wicked fast off the wind in the breeze. It is also much more comfortable, at least compared to the torture-boat Thistle with it's 4″ wood rail. Plus I love that the boat is easy to campaign — I can tow the boat with my Subaru, raise and lower the rig by myself, and don't have to corral 5 other sailors to spend a weekend racing.
Least: A little more (watertight) gear storage would be nice.
What is your favorite sailing event and why: This year my favorite event was Seattle NOOD regatta. It was a three day regatta, which for me is a great length — easy to get the time away from work and family and long enough to get a lot of races in. Plus I love sailing out at Shilshole Bay in Seattle in the spring — the breeze is often quite good (though this year was fairly light) and there's interesting current to deal with. I also raced Whidbey Island Race Week (oddly enough for a Seattle sailor, for only the second time), which was a great event in a tricky venue with some excellent learning from some of the top west coast boats.
What would you tell a newcomer to the Viper class who wants to get up to speed quickly: Lol — practice getting the kite back into the bag at the leeward mark. Really I think it depends on where they are coming from. I think the boat needs to be sailed sometimes like a dinghy and sometimes like a keelboat — if you're coming from a big boat it would make sense to learn things like roll-tacking and gybing. Coming from a dinghy, I'd say that learning to get the bow down upwind (and conversely get the bow up downwind) is important. I found reading through the class assocation forums and talking with other Viper owners — all of whom have been super friendly — to be a great way to fill in the blanks on what the boat needs to go fast.
Do you have a basic race philosophy: Winning races is simple, right? Get a good start, go faster than your competitors, and don't make stupid mistakes. Seriously, I spend a lot of time in my campaigns on boat prep, crew work, and speed — trying to make the boat go fast through the water and around the marks. Once we're on the race course we tend to go for conservative starts, keeping our air clear, avoiding the edges, playing shifts, and trying to avoid the big mistakes at crossings and mark roundings. And don't give up no matter how grim things look.
Any other sports or hobbies: Sailing, work, and family keep me super busy, don't have a lot of time for a lot else.
What's one thing that you'd want people from the Viper class to know about you that they probably don't: I can eat an entire jalapeno pepper without flinching.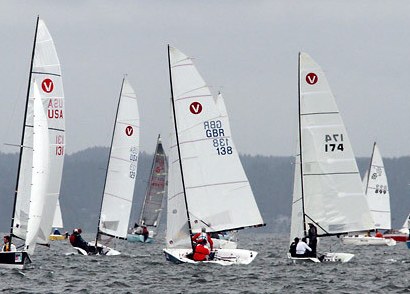 (Above: a rare picture of Doug (white rash guard) sailing his Viper from the 2012 Seattle NOOD.  He'll get his own good Viper sailing pic soon enough)
What sails do you use: Doyle Boston for my upwind sails and Ullman kite.
What will you do to not miss sailing this winter: I pull on my wet gear and switch over to my Laser for winter practice. There's a group of three or four of us who go out weekly through the winter. I'll mix in some Viper practice days as well.
What are your Viper plans for 2013: The key PNW events — NOOD in Seattle, Whidbey Island Race Week. I'm also hoping to get down to Long Beach Race Week. And obviously hoping we can get a couple more Vipers up here in Seattle to get some weeknight one-design racing in.
Tell us your favorite (website appropriate) Viper story: Well, my first few attempts at gybing the boat in 20 knots were pretty amusing, perhaps less so for my crew.