March 16-18, 2017
Reflections by Tim Carter
Aaah, Saint Patrick's weekend, the promise of Hennessey's, green beer, good breeze, and the flat water of San Diego's south bay was calling us back. Is it that time again?? On the way from Long Beach to San Diego, Nigel Brownett and I recalled that the first time we raced Vipers against other Vipers was 10 years ago at this event. My how the experiences and the miles have added up.
The forecast did not have a lot of hope, 7-9 kts and cool overcast days were what the speculators said, and they were close. We ended up with a bit over 10 kts. and the skies burned off by noon mostly, although we had a fog line appear on the south side of the course each day that had a bit more pressure in it.
Nine Viper 640s were able to make the trip, we did have quite a bit of attrition due to several Viper sailors trying out their big boat sled chops on the way to Cabo San Lucas in Mexico. (Hope they can get back in) 😉.
Of the travelers, we had two down from Vancouver, BC, one from Post Falls, ID, new owner James Baurley from Marina Del Rey who purchased #26 from Texas (I miss you Bob), the always fast "Clown School" from Oxnard, and four of the ABYC regulars. No matter the conditions, I knew with this crowd there would be tight racing and late nights at the multiple pubs within stumbling distance.
We rigged Friday, and our third crewmember, Jennifer Weisman, made it down from Santa Barbara. We made an appearance at the weather talk and competitors' briefing and then headed out to the race course. The venue was very typical with 20 degree shifts and more than a few holes that will suck the mojo off your Viper. One mile beats and twice around was the prescription for all weekend. Doing my usual greeting of my peeps, I noticed class secretary John Leyland's crew seemed to have been juggled. I found out that his middle crew, Dave Phillips from Vancouver, was so taken aback by the prospect of seeing sunshine while rigging, he suffered a heart attack…  No Joke, a real one. Coronado YC and the EMS services did stellar duty and by 3pm he was out of the OR with a brand-new stent and looking for a beer. Never fear! Dave Reed, the editor of Sailing World, had nothing better to do so he came out and played with us.😊
Three races scheduled, we lined up and decided we wanted the pin.  WELL, I was a bit too early and flopped onto port with the intensions of ducking two boats. Well I succeeded in ducking 1½, OUCH!! I did my requisite 720 and decided to try to make up some self-induced damage, literally. No throw-outs for this dance… Our plan for the weekend was to just play the averages and sail fast and avoid major mistakes. We were in fourth at the final weather mark and decide to gybe away back to the right, found a great shift/header while the top pack floundered in light breeze on the left, and we crossed the line first. Races 2 & 3 saw Eric Chadwick come on strong with two bullets while we visited the left side and decided not to go there anymore. Eric, who was sailing with my long-time tactician Steve Bloemeke and Lido Rockstar Kevin Thomas, won the day. So, after sailing in and doing some ghetto repairs to my bow, St. Patrick was calling us to chase out the snakes. It all gets a bit foggy after that, but Saturday morning saw the Irish pub putting a large power washer in service to work on removing gastric "debris" from the deck.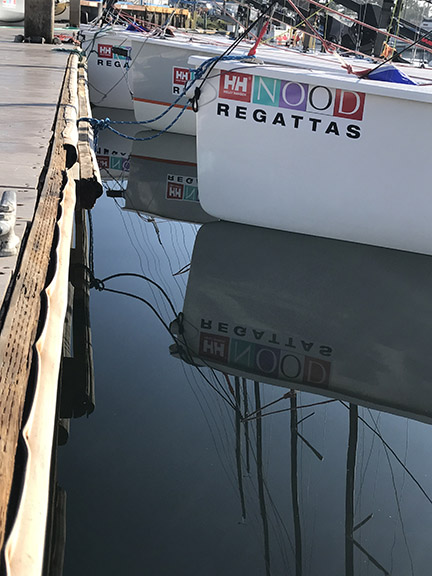 Saturday saw the good Dr. Graves from Idaho sailing with his son Michael who is his usual crew and, for this event, Dr. Graves brought in a ringer, his wife who raced with him back in college and has decided that the Viper was the perfect platform to get her back into racing.  I won't speculate how many years ago that was, but all the rust went away by first race. They carded 3 bullets that day while we were a consistent second. We pulled into first by 4 points and decided we needed to watch the good Dr. very carefully on Sunday. We then summoned an Uber to San Diego YC's rum tent to try and pound the forehead on the flagpole. 😝
Sunday's breeze and shifts were very similar, so after processing the previous two days we carded three bullets and secured the event.
This was my first win at a NOOD. I have been the bridesmaid three times in the past so I got this monkey off my back. I want to thank Nigel Brownett and Jennifer Weisman for their calm, soothing nature on the boat, and the wonderful sense of humor and great attitudes they bring along with them.
Also, I want to give a huge shout-out to all the Viper family who braved the alcohol and the 10 miles to the Mexican border.
Timbo