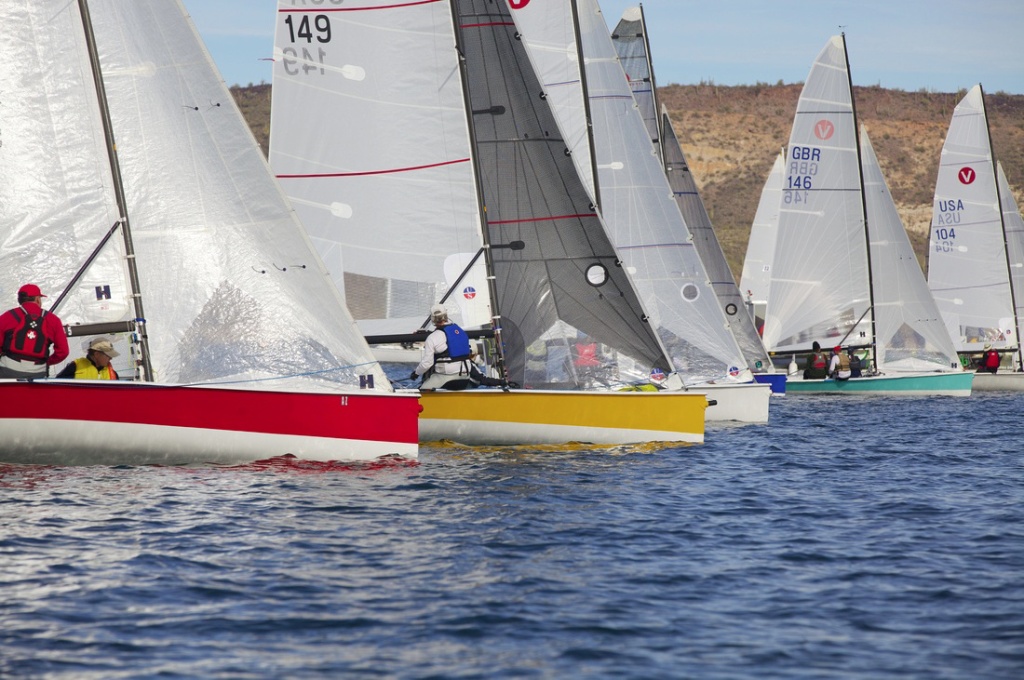 Arizona Yacht Club's Birthday Regatta is like the "Cochella" of sailing… There's a festival-type of vibe with everyone staying on houseboats or camping in RVs right next to the lake.  When not racing, most sailors can be seen "campfire hopping", hanging out at the yacht club tent, or watching NFL playoffs at the marina bar.  And, with cell signal a bit weak, it was definitely a weekend "off the grid".  If I could freeze time to a single weekend, this might be one of them.  Great racing at a fun venue with a bunch of crazy Viper sailors…
Lake Pleasant is traditionally a light air venue… so my pre-regatta planning included the bright idea of down-sizing my spinnaker halyard/retriever to a class-minimum 4mm super-light line.  This was going to be our "secret weapon" as our current retrieval line was pretty heavy and tended to drag down the kite in light air.  "We'll be super-fast down wind with this tiny line!" was my thought as I packed up #148 for the trip out to Zona.   Turns out, that decision would cost us the regatta!
I had to miss Friday's racing (someone's gotta pay for all this fun!), so Keith Magnussen drove the boat with Evan Hoffman (my long-time Lightning team mate) from San Diego – currently sailing at Old Dominion and his girlfriend as crew.
I got a text from Keith Friday morning that it was blowing 30 when he woke up. I jealously texted back, "crank on the uppers, block the mast back, don't ease the mainsheet out too much…. And CHANGE BACK TO THE OLD SPIN HALYARD!"  Now, if I had only pushed SEND, he might have had a better chance at reading this message… But I didn't, and he didn't… and out they headed to race in 15-20 knots with a piece of dental floss for a spinnaker halyard.
As expected, our team struggled to finish 4th in the first race while manually holding the halyard in the cleat.  Add to this that their third crew was Evan's non-sailor girlfriend, so they made the decision to come back to the dock to grab the old halyard, nailing them with a DNS for races 2 & 3.  Meanwhile, class newcomer Ed Feo's LocoMotion scored a 2,1,2 in the first three races, showing that he's learned a thing or two about Vipering.  Of course, he had his big-boat rock-star crew Dave Millett and Chris Deneen with him.  He also had a good teacher, sailing with Tim Carter for a regatta or two before buying 104 from him.  Tony Chapman won the last two races to win the day, while Ed struggled to hold on to second with local Greg Jackson in a close third.  And then there was us… in seventh place, 22 points out of first!  Not exactly how team F.N.G. wanted to start the 2012 season.
I finally rolled in around 10pm and set up my chair at the fire pit with a cold one, just in time for the re-telling of the first day of racing.
Saturday, The Leukemia Cup
Saturday morning, I woke up, looked out the window from my bed and saw a wonderful sight.  The newly rising sun was just shining on the red mountains across the lake and the water was a deep, inviting blue.  As I gazed at what would be our playground for the weekend, I quietly thanked my parents for taking up sailing instead of tennis as the family sport.
There's something uniquely relaxing about being 22 points out of first place.  With no hope of winning, we felt no pressure and were free to just sail and have a good time.  It was a good strategy as we got some great starts and had speed to be in the top pack all day.  The Sinnerman team of Brad Milligan, Nico Landauer (everyone's favorite Uruguayan), and Ryan Hunter also bounced back from a bad day one to round the top mark first in 4 of the day's races.  They also seemed to find more than their share of holes, including a prime parking spot 2 boat lengths shy of the finish line in race 2.  We all learned some new Spanish words from Nico as 3 boats sailed around them!  And by around them, I mean literally around them!  Boats would duck them, and then shoot across the line!  In race 3, Ben Dahlin somehow learned to make his boat invisible… and then magically made it re-appear while rounding the first mark almost half a leg ahead, leaving everyone wondering, "how'd he do that!"  He needs to change his boat's name to HOUDINI!
Even though we only won 1 race, we had great consistency (1,2,2,2,3) to take The Leukemia Cup on Saturday.  Sinnerman was 2nd, with Greg Jackson's Heroin in a close 3rd.
Saturday night at the Marina Bar & Grille
After racing, most of us headed to the bar on the dock to watch the NFL playoffs.  Now, when you think of "a bar on the dock", you probably envision a small place with a few stools and bartender with an eye patch… But The Pleasant Harbor Marina Bar & Grille is a full-scale restaurant/sports bar, with numerous big-screens, great menu, and very friendly bartenders, which meant that Nico and Keith were right at home… because they like big… um, screens.
Tebow mania was in full force and the sailors in flip-flops & board shorts mingled with the typical Zona crowd in denim and cowboy hats.  As the night got later, the Viper nation got rowdier… and although not many of us remember all the details, the bar receipts I found in my pocket the next morning confirmed that the Vipers did indeed win the party!  There was also a receipt for a sizeable donation to The Leukemia & Lymphoma Society, so it's all good.
Sunday: down to the wire
After 10 races over the first 2 days, Tony Chapman held a 3-point lead over Greg Jackson. Milligan was 8 points back in 3rd, but we were only 1 point behind in 4th.  Tim Carter, sailing with Rachel Ellis and "Venomiss" Stacey Louela, was 5 points behind us, with Ed's LocoMotion right there, too.  It seemed like the top 2 teams would battle it out, and the rest of us would vie for 3rd… but this is Lake Pleasant…  and things can turn upside-down in a hurry.  Tony and Greg scored their worst finishes of the regatta while Brad, Ed and Sears stayed at the top of the fleet… Yup, things were turning upside-down!  After 3 races, the scores were (with a throw-out): Jackson and Sears tied with 40 points, Chapman had 41 and Milligan 43.  This would all come down to the last race!  Our team knew we had this!  We just needed to continue what we had done since fixing our halyard blunder.  The Chairiots of Fire theme flowed through my head as got myself pysched-up for the final show down!  However, the wind gods had seen enough racing and decided to take the rest of the day off, so after floating around for a while, the fleet headed in.
Even though we lost the tie-breaker, we were pretty thrilled with our comeback to score a 2nd in the first event of the West Coast Circuit.  Having joined the class halfway through last year, our team is super-excited to do the full circuit this year.  Driving back to Long Beach with Keith, we reflected on all the fun this weekend.  13 races over 3 days in beautiful weather, some great campfires at night, and super-friendly sailors.  We're thinking we'll try a houseboat next year, and bring some bikes for exploring.  Keith asked me not to "mess" with the boat any more… my reply: "but, I was going to install more drink holders for Mardi Gras Race Week next month…"
Sail    Boat    Skipper    Total    R1    R2    R3    R4    R5    R6    R7    R8    R9    R10    R11    R12    R13
1    46    heroin    Jackson,Greg    40    5    4    1    5    5    3    5    4    1    1    1    5    9*
2    148    The F.N.G.    Sears,James    40    4    11*DNS    11 DNS    3    4    2    1    3    2    2    4    2    2
3    146    Boatshed.com    Chapman,Tony    41    1    2    5    1    1    4    2    6    6    3    7*    4    6
4    143    Sinnerman    Milligan,B E.    43    6    3    4    8*    8    1    4    1    3    4    5    3    1
5    104    Locomotion    Feo,Ed    51    2    1    2    7*    6    7    7    7    5    7    3    1    3
6    149    Dilligaf    Carter,Timothy    57    8*    8    3    4    3    5    3    5    4    5    6    6    5
7    126    Dodecahedron    Dahlin,Ben    58    7    5    8*    2    2    8    6    2    7    6    2    7    4
8    145    Red Red Wine    Dion,Laurent    90    3    6    7    9    9    6    8    9    9    10*    8    9    7
9    133    Zippy    Bull,Dale    95    9    7    6    6    7    9    10*    10    8    8    9    8    8
10    27    T2    Brown,Stephen    120    11*DNS    10 RAF    11 DNS    11 DNS    11 DNS    10    9    8    10    9    10    11 DNF    10