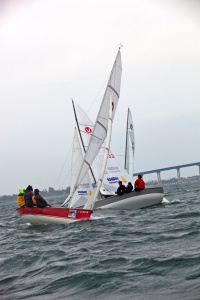 Funny you ask…
So there we were….(as one of my crew likes to put it..) #143
Sinnerman
was splashed after a short week and delivery from
San Francisco
to
San Diego
. Drew Harper had made sure the boat and I were ready to go. With only a week to prep for NOOD in San Diego we had our work cut out for us. I had been thinking of this moment for over six months.  Rondar was amazing at keeping me up to date on the delivery but it could never come soon enough.  I was a week out and had to figure out the boat. I had my new set of Quantum's and was ready to go.
Day one…Decent breeze and the flat water of Coronado Bay.  A great combination. We made our splash in the fleet but had better downwind than upwind speed in the 8-12kts of the day.  I was elated with our 2-3-3-2. Tomorrow was another story…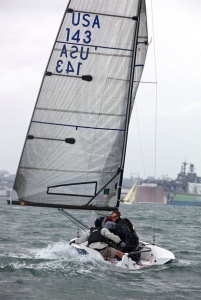 Day two…Started in breeze of 8-9kts then faded to 4-6. As did we. Our first race was a 2 but we followed with a 8-6-7. Humbling but I remembered the words I had heard many times…"This fleet can be at any time, confusing…any one can win."
Day three…Gale warnings (22-26kts) and this was our fifth day on the boat, we actually measured it in hours. After a nice wipe out in my first high wind gybe, I realized that I became the first member of Sinnerman's Swim Team, not good for a skipper!  Luckily it was practice and the start was 30 mins away.  I got my wits about me and knew what I did wrong (cleating the main..woops!)
Off to check in.  The conditions were outstanding! I remember  hearing Tim Carter #104 telling the PRO that racing was good to 30kts!
Race one began and It was unbelievable.  The boat was great upwind.  We rounded the mark and set.  The first downwind was a set and douse at lay line for the first few boats and I learned we could jib reach at 12 kts!!!!  Are you kidding me!! The next downwind legs had to be more aggressive so we kept the kite and gybed. We hit 14.9kts and that was the reason I bought a Viper!
We finished the day with a 3-1 for a solid Second in our first regatta in a boat I have been dreaming about for months! Kite went down after the finish and we still jib reached in to CYC at 11-12 kts.
Great boat, great crew, great fleet!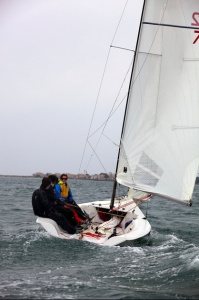 Good times,
Brad Milligan
Sinnerman USA 143