Written by Stacey Loula aka Venomiss
Long Beach Race Week 2010 had one of the biggest turn outs yet with 144+ boats in
18 different classes! That being said, the Viper class saw  boats on the line including boats from Arizona and Texas with crews stretching as far away as Canada and Rhode Island.
Here's some nice coverage from the Ullman Website
Tight racing in our fleet saw 1st-4th position within 2 points of each other going into the last day and though the "Long Beach Doctor" wasn't in most of the weekend, we still had decent enough breeze to make for some wild fun rides at times. The start lines were fierce, and a particular instance on Saturday stands out as we had one of those epic "uh oh…." moments one minute before the start gun when our tiller extension broke. Everyone was piling up at the pin end and we were surrounded, but on starboard tack. Before we knew it, we were turning down at a fast rate with a boat 5 feet in front of us on port tack. When we looked back wondering what our driver was thinking back there, he was sitting awestruck looking at the tiller extension that had just sheered off. Brace for the impact…  It wasn't pretty and it was definitely loud, but we collected ourselves and made it around the course with our skipper sitting in the middle of the boat steering until we could jury rig the thing back together between races. Made for a great Auto Helm on the way back in though!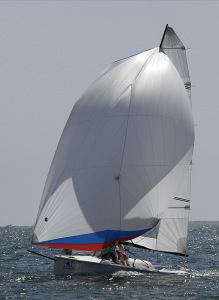 Other boats found kelp patches during the weekend that seemed to be abundant and one boat even had to back down in the middle of the race because they had so much! Needless to say, that took them out of that particular race which was too bad as they had been a fast boat all weekend. Tim Carter on "Viral" had fresh cut Ullman test sails on his boat that later proved to have everyone chattering about them at the parties and eventually they helped lead him and his crew to a 2nd place overall. Tim had some pretty sore ribs after racing on Saturday though when he slipped right off the boat landing partly on the bow but slipping into the water.  …at the dock! Unfortunately, Tim wasn't the only one going for a quick dip at the dock as our newest Viper Owner, Jeff Young, chose a split second later to step off the side of his boat, simultaneously losing his prescription glasses to boot! Saturday was turning out to have all sorts of "wacky juju" going on which has to include John Riddell from Arizona. He was originally scheduled to compete in a Viper at this years event but later chose to sail an Open 5.70. That decision later bit him a good one with "Viper Karma" as he tried to fend off another 5.70 and somehow ended up with a gashed leg, 6 stitches, and no sailing on Sunday. Bummer.
However, congratulations are in order to Bob Miller and crew (Brad Boston & Chris Fortin) aboard "Giggity" who now hold the title to "One-Design Boat of the Week honors." This award is for winning the most competitive class in which Bob and crew overcame kelp and a broken main halyard Saturday to stay in contention, then in the last race broke a tie with Alamitos Bay YC's Tim Carter for the overall win. Great job guys, and a big thanks to everyone who traveled from near and far to make this a successful Viper regatta! Also, many thanks go out to the RC for running smooth races and keeping the classes out of each others way, relatively speaking of course, and to Alamitos Bay YC and Long Beach YC for hosting great parties with plenty of food, icy cold beverages and entertainment!
-Stacey / Venomiss