A hectic week prefaced the 2012 San Diego NOODS. This was to be the biggest mid-winter Viper regatta to date in the West….16 boats on line. Garett and I had to prepare the Rondar Double Viper rig to take #175 and the K6 down, a much harder task than we had imagined…in more ways than one. Some custom welding, fitting and futzing and we were ready to hit the 500 mile road trip. Normally I'm all about the road trip but this semi-annual sojourn takes us through the length of LA traffic towing a boat, so we always travel that section in the middle of the night around 4 am. Usually a great idea, this time, not so much.
2:00 am – Garett behind the wheel on a lonely and foggy stretch of highway 101 outside of Lompoc we come upon two people standing beside the road frantically waving some dim flashlights…barely seen through the fog. I urge Garett to slow down, his only reply was "I have a semi bearing down on my a$$." A couple of quick dodges around cars sitting in the road and we're to a stop in front of an semi rig, on it's side straddling the entire road. The rig behind us came to a stop, finally so we jumped out of the car. The accident only happened a couple of minutes before. A mixture of fog, dust, smoke and diesel fuel permeated the air. We asked the flashlight wielders what happened, got a brief story. I asked, "How's the driver?" Their only reply was "Driver?" Garett and I jumped up on the overturned truck, hearing the driver calling out, not fully knowing what to expect. He was fine. So fine in fact that he started handing out his personal stuff….while we're standing on top of a diesel truck that's sitting on top a growing pool of fuel. Lots of things could have gone wrong as was best evidenced by the huge oak tree the cab of the truck missing by a couple of feet. A couple hour delay and we're back on track for LA, albeit way too late to miss traffic. Oh well.
We finally arrive in 'Dago to the typical mid 70's, light winds and clear skies. It's gorgeous. This was the first time Garth Reynolds and Chris Snow from North One-Design had ever sailed a Viper. North is our new OEM Sailmaker and they kindly agreed to help us re-write the tuning guide based on the New M7 mainsail. We took the whole afternoon working on tuning and after a brief sail new we had the boat fairly dialed.
Viper crews were flowing in from all over the West. Viper Class secretary Garrett Johns boat showed up with his crew, Garrett to fly down Friday and meet the boat. The Arizona contingent of Viper Class Treasurer Tony Chapman, Laurent Dion and Greg Jackson all arrived sporting their crews, most of whom have more time sailing a viper than nearly everyone else in the USA. Arizona was a very early adopter of the boat. Jeff Jones from Texas planned a family vacation with wife Carrie and son Owen and they chartered Viper #38 for the regatta. West coast racing luminaries, SoCal Viper Rep Tim '9 Toe' Carter and Viper PNW Rep (Ullman Sails All-star) Chris
Winnard were joining in the fun. Jim Sears boat 'FNG' fresh from it's long trip (& 2nd place finish) back from Mardi Gras Race Week showed up with Keith Magnussen steadily tuning and chatting it up with us all. Locals Brad Milligan, Jeff Young and Dale Bull welcomed fellow new local owners, Glenn Griley and Ben Dahlin to Coronado YC, This was going to be a great regatta. Deep talent pool and a real corinthian spirit.
This regatta also marked the entry of North sails into the West as Rondar's OEM sailmaker. Garth Reynolds and Chris Snow of the North One-Design office entered Viper #175 specifically with the intent of learning the boat and helping us develop the new Viper Tuning guide. Garth is an engineer and takes a very technical approach to this process. Thursday's tuning session had him rigging a mainsail camera to the head of the new version 'M7' mainsail. He also mounted a foredeck cam at the foot of the jib giving us some wonderful pics of the sails. North has a new software program that allows Garth to accurately plot many elements of shape and form into a 3d plot. This enabled us to play quite a bit with various tuning elements to get the sails shaped up nicely.
North is helping us rewrite the Viper Tuning guide so we are going through a painstaking process to not only get the numbers, but catalog photos of the shapes of the sails when tuned to those numbers. This should give folks a solid baseline for tuning.
Friday ushered in the normal light air, flat water San Diego conditions. 16 boats on the line was AWESOME. Everyone pressed hard on the starts, causing a couple of general recalls throughout the day, but making very tight lines. I had huge fun sailing with Reynolds and Snow. Being a 'currents' sailor from NorCal I am always amazed sailing with the SoCal boys and their penchant for spotting windshifts shifts on the racecourse. I'm always sailing with lots of folks that have never sailed a Viper or quite often, any sportboat at all. It was great sailing with such accomplished sailors. It made for a quiet and efficient boat. Great Bar laughs and a large Pizza dinner rounded out the night.
Saturday's conditions were a full 180 on Friday's easy sail. Winds were gusting in the mid-twenties and the 300 mile long low pressure system was forecast to land on the San Diego coast at the start of Race 1. Land it did and with a fury. Winds puffing in the mid-thirties proved too much for the Race Committee who had everyone sail out to the course, but then pulled the plug. Back to the dock and after a couple of cans of liquid courage, 4 Vipers and a handful of 505's set out for some hi-wind sailing. Turned out that the wind seriously abated and we all had some great rides and loads of laughs….checkout this Video made by Viperette (Rachel). The usual large group dinner at a local mexican food, filled with laughs and too much tequila left me longing for my berth on the borrowed powerboat.
Sunday morning found us still in the throes of the low. Winds were steady 22-24 with puffs in the high twenties. The RC put everyone on hold but at the urging of the Flying Tiger fleet decided to setup the racecourse. The delay proved too much for many of the Viper crews who were pressed for time and chose to downrig and beat the infamous SoCal traffic back to LA, Arizona and beyond. In the meantime the Tigers bailed so 4 Vipers (Sears, Young, Feo and Reynolds) headed out to race with a contingent of 505's. I have to admit, it turned out to be perfect conditions. We didn't see anything above 30 TWS though there were some pretty wild shifts and puffs, winds averaging from 14-27. There were a couple of spectacular crashes though 😀
Summary. San Diego NOODS has quickly become an institution for the West Coast Viper class. High quality racing, usually a day of high winds and a wonderful host club (Coronado YC) make this the perfect end of winter race for us. We had 16 boats this year and will be pushing for 20 next year. I am back down to Alamitos Bay YC in Long Beach next weekend to help run the Ullman Sails, Viper/K6 tuning clinic and demo on Saturday March 31. If you're reading this and Vipers sound like fun…come for a sail. We'll teach you how to make them go fast and we'll all sit down at the end of the day for burgers and beers on me.
Next up. Long Beach Race Week. Pushing for 20 boats and I am REALLY looking forward to some fresh LA breeze.
Oh yeah…we are hosting our Pacific Coast Championships this year at Whitbey Island Race Week. This is, at least to the best of my knowledge, the last true race 'week.' It runs from Mon-Fri. We'll be setting up a two day demo the weekend before and we're certain to capture some new Viperers in the PNW. Truly a bucket list regatta!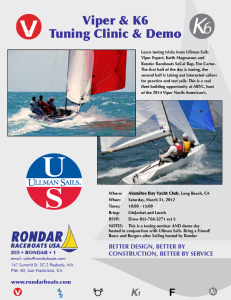 Final Results were.. Pos,Sail, Boat, Skipper, Yacht Club, Results, Total Points
1. 175, www.onedesign.com, Garth Reynolds, MBYC, 1-2-1-1-1- ; 6
2. 104, Locomotion, Ed Feo, ABYC, 7-1-8-3-3- ; 22T
3. 148, The F.N.G., James Sears, ABYC, 2-13-3-2-2- ; 22T
4. 149, Dilligaf, Tim Carter, ABYC, 5-3-5-17/DNC-17/DNC- ; 47
5. 143, Sinnerman, Brad Milligan, SDYC, 3-8-6-17/DNC-17/DNC- ; 51
6. 146, Boatshed.com, Antony Chapman, Arizona YC, 4-15-2-17/DNC-17/DNC- ; 55T
7. 173, Kindred Spirit, Glenn Griley, KHYC, 13-4-4-17/DNC-17/DNC- ; 55T
8. 138, Disaster Area, Chris Winnard, SWYC, 8-5-11-17/DNC-17/DNC- ; 58
9. 130, Mr Potato Head, Jeffrey Young, MBYC, 12-9-17/OCS-17/DNC-4- ; 59
10. 126, Dodecahedron, Ben Dahlin, SDYC, 10-6-13-17/DNC-17/DNC- ; 63
11. 46, Heroin, Greg Jackson, Arizona YC, 6-17/DSQ-7-17/DNC-17/DNC- ; 64T
12. 1148, Red Solo Cup, Jeff Jones, Austin YC, 11-7-12-17/DNC-17/DNC- ; 64T
13. 129, Kaa, Garrett Johns, Anacortes YC, 9-12-9-17/DNC-17/DNC- ; 64T
14. 34, Snake Eyes, Nigel Brownett, SFVYC, 14-10-10-17/DNC-17/DNC- ; 68
15. 133, Zippy, Dale Bull, MBYC, 16-11-14-17/DNC-17/DNC- ; 75
16. 145, Red Red Wine, Laurent Dion, Arizona YC, 15-14-17/DNS-17/DNC-17/DNC- ; 80