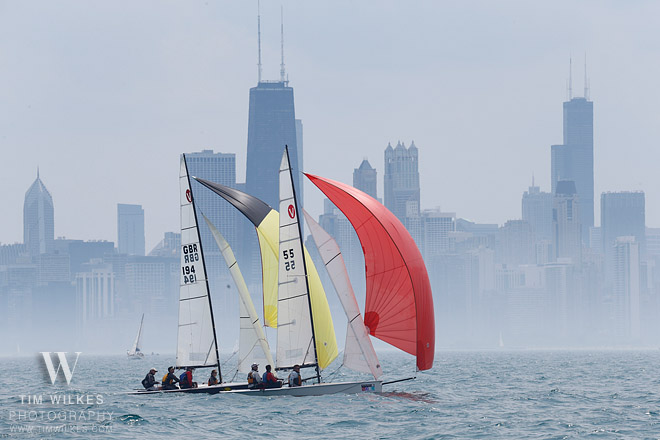 The Great Lakes Viper Fleet invaded the Chicago Noods this year for the first time in class history.  Local boat owners Nick Kofski (#55) and Anthony Bowker (#194) were joined by five boats traveling to Chicago (#29, #41, #43, & #57) as the class sailed out of friendly Chicago Corinthian Yacht Club and shared the race circle with a bunch of Rhodes 19s.
Also in attendance was Dan Tucker from Rondar Raceboats USA, who came down to race with rookie Doug Hennessy.  Dan was busy on Friday taking out potential owners and promoting the fleet (Thanks again!).  On shore the others got together, shared some Goose Island beers (Thanks to Anthony), and shared tips and tricks while rigging up for the weekend.  [Photos by Tim Wilkes]
The first day of racing saw light to moderate breeze.  Both the Rhodes and Vipers were postponed until shortly after 12:00.  Once the breeze filled in, race committee ran off 4 races with four different boats finishing with a bullet.  After the first day of racing, Tom Peterson in Widespread Panic led the fleet with consistent finishes of 2, 1, 3, 2 (despite being over early in race #3).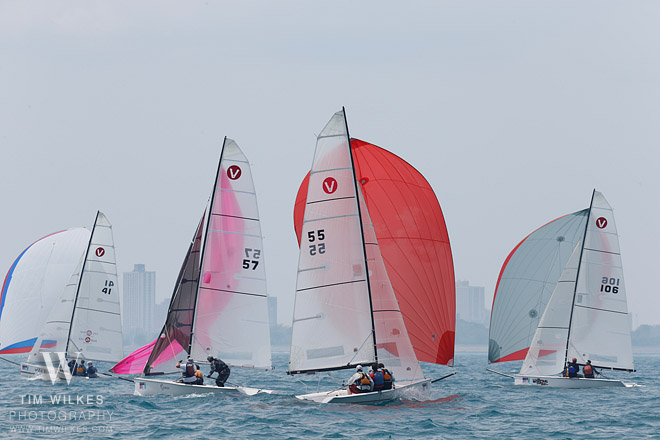 The party on shore back at Chicago Yacht Club was in full swing by the time the fleet got down there.  Rum drinks and live music entertained the crowd and kept the party lively, with many Viperers staying to the end to make sure we used up all our complimentary drink tickets before heading into the city for some deep dish pizza.
The second and final day of racing was supposed to be big breeze from the south, but it never materialized and R/C started us off after a 30-minute postponement as the breeze filled in.  Once again, we got in 4 races with Black Sheep showing the most consistent finishes of 3, 2, 1, 1, moving them from last to 2nd in the standings.
The regatta came to a close with the top 4 boats separated by 4 points (results).  Overall the regatta was a huge success for our local fleet.  All that attended had great things to say about the event.  On a social side of things, the fleet got together on Friday night to visit the Goose Island Brew pub for some fantastic beer and food (thanks again Anthony).  We are already looking forward to next year at the Chi-town Noods and hope to grow the number of boats to double digits.