Written by Peter Beardsley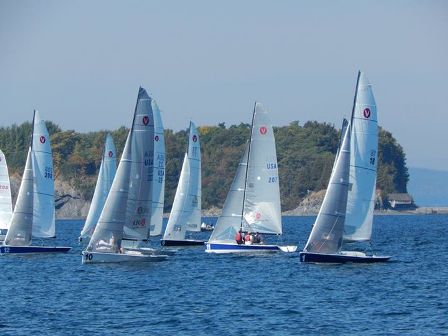 Since it's the day before the final major northeast Viper regatta of 2014, I realized it'd be a good idea to finish the writeup of the fantastic event from two weeks ago that I promised event chair Jason Hyerstay I'd write.  Normally HPDO ends the season for us, but the first (hopefully annual) Lake Champlain Viper Open made me wonder whether I got that right.  Jason emailed me a year ago asking what would be involved in getting sailors to join the 2 other Vipers already on Lake Champlain for a fall regatta.  The Vipers aren't a demanding bunch.  Pick a windy time of year.  Keep costs down and the event charming.  Some fresh water and plentiful local beer can't hurt.  Maybe have cheese falling from the clouds to keep the wives happy – let's make this a family event.  Ask the leaves to change color, but not be so vibrant that the drive down I-89 is jam packed.  End racing early enough on Saturday to let people party with the UVM college kids in Burlington that night.  Find the best local ice cream sandwiches imaginable.  Do a weather dance to ensure enough visibility to make the not-too-distant Adirondacks sparkle.  Moose masseuses waiting on the lawn post-racing.  Embroidered flannel shirts for the winners.  Trophies made of maple syrup.   A high speed gondola from Lake Champlain Yacht Club to the top of Mount Mansfield.  A "Champ" sighting.  Oh, and plan to travel to a few events in 2014 to promote like crazy.  Jason nodded and said "ok, we can do that", and enlisted a team of volunteers at LCYC to make one of the most memorable events of the year for the 11 Vipers in attendance.**  "We will all be back.  This is a special place and LCYC did an amazing job" said Tech Committee chair and regatta winner Dave Nickerson.
(nearly all photos courtesy Gerry Davis)

Oh yes, the racing.  Thankfully, there was racing.  This was not a given, with a huge high pressure system camped over the northeast that stultified racing efforts from Chicago to Cambridge and Annapolis to Annisquam, but creating clear skies and unseasonably warm temperatures in the low 80s.  Saturday's racing was in Shelburne Bay right off the yacht club.  Winds were from the north, puffy, shifty, and less than 7 knots, but the RC made the best of it, managing 3 races in difficult conditions by anchoring just to windward of a no-wind zone that swallowed up local Mark Engelhardt between races 2 and 3.  The secret of the day was getting right most of the time.  We had a bad start in Race 1, banged right, crossed the entire fleet, and then lost out to everyone who took our stern as they dug further into the right corner.  Ben Steinberg, Kelly Dumas and Brian Barmmer were the big winners of this game in Race 1, followed by Nickerson, and Bob Bowditch in Viper 136, attending his first-ever class regatta since buying the boat in 2010.  For those not familiar with Viper 136, it is the only Viper known to have bottom paint, though none of that slowed him down over the weekend, as Team Dragon Lady was almost always in the top pack all weekend.  Nickerson and team took Race 2, and Team Ghost Panda, sailing 4-up on a double date with friends hovering at somewhere around 650 pounds combined managed to take Race 3.  After a bit of drifting and enjoying the Indian Summer, the RC organized tows back to LCYC, where buckets of Long Trail Ale and the mythical Heady Topper awaited, along with cheese plates, pasta, legendary Chesster's ice cream sandwiches, and other bits of wonderfulness that are hard to remember since everyone just stared at each other and said "Really?!?  Wow."
After dinner, some decamped to The Old Shed in Shelburne, while others decided to relive their college days in Burlington.  Nothing illegal occurred.  Alternately, much of the fleet pleads the Fifth.
Sunday saw a bit more wind and a sail outside of the bay into the open waters of the lake.  The weekend before saw 30-35 knots both days, and sometimes the 125-mile long lake can whip up some serious conditions.  While Sunday allowed for 4 more races in a southerly, conditions largely resembled Saturday's racing, with a premium on minimizing boathandling, staying in puffs and working the lake mojo.  Several runs featured teams (mostly Mongoose) taking what looked to be flyers down the left into the trees and gybing out looking a lot better than anticipated.  Paul Zimmerman, sailing a borrowed 207 from Nicholas Custer, won Race 5, before Nickerson, OJ and Steve O'Connell won the last two races to seal the win.  Steinberg's downwind antics allowed him to break a Day 1 tie with Ghost Panda to take second, we were third, and Dragon Lady fourth on the strength of three top-three finishes, motivating Bob & Co. to sign up for the HPDO and 2015 Charleston Race Week shortly thereafter.  Upon hitting the docks, cheese plates and beers were passed while derigging while everyone stared at each other and said "man, these guys really try hard."  PRO Dale Hyerstay (Jason's dad) reminded everyone that the goal was not to run a good event in 2014, but to run an event that would make everyone tell their friends to show up in 2015."  Mission accomplished, Vermonters.  Champ would be (is?) proud.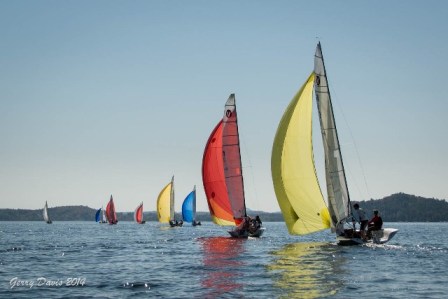 Oh, and results: http://lcyc.info/files/2014%20Viper%20640%20Results.html
** There were 12 teams signed up.  On the way to the regatta, Viper Executive Committee At-Large member and web guru Fletcher Boland's car was torched by a rogue mob of mountain men in New Hampshire, who came from the hills brandishing copies of the Old Farmer's Almanac, saying that the high temperatures in Vermont and in Fletcher's engine compartment were unnatural.  We all agreed that people in the fleet would be talking about this for years to come, and hope that Fletcher makes it back onto the water soon.