Tom Loutrel (Charleston, SC), sailing with John Bowden and Carson Turowski, won the 2015 Viper 640 Atlantic Coast Championship over the weekend of June 27-28. Sailing their Viper CHOPPY SEAS, Loutrel and crew were able to beat by a single point Danny Pletsch (Greenwich, CT) sailing BLACKOUT PROPOSAL with Megan Pletsch and Nick and Meredith Ewenson aboard. Both boats won two of the five races sailed with neither having scores lower that fourth.
In third place sailing CELERITAS, was Malcolm Gefter (Palm Beach, FL), a mere three points off the pace. Sailing with Malcolm were Jeremy Wilmot and Jonny Goldsberry. In his words said with a grin on his face, Malcolm commented, "Old farts like me require great studs like Wilmot and Goldsberry to be competitive. I just turn the boat when they say to!" Ah, youth!
Event Website including photo gallery
This year's ACC was sailed as part of Bacardi Newport Sailing Week presented by EFG. Operating primarily out of the Newport Yacht Club with the assistance of a race committee from Sail Newport, PRO Mike Levesque pushed for a fifth race on Saturday knowing that Sunday's forecast was not promising. Racing out of Potter's Bay north of the Newport Pell Bridge, courses of 1.2 miles were set with the shifty breeze ranging between 15-20 knots from the southeast. The seas were relatively flat but staying in phase through the many oscillations made the difference. With temperatures in the 60s and periods of rain and constant drizzle the sailors were wet and  cold returning ashore after 1700.
In addition to the dozen Vipers (the largest fleet in attendance) were VX Ones, J/70s, and a classic division comprised mostly of S Boats. The RC wisely started the Vipers first and that allow the faster boats to separate from the following divisions minimizing overtaking situations on the course.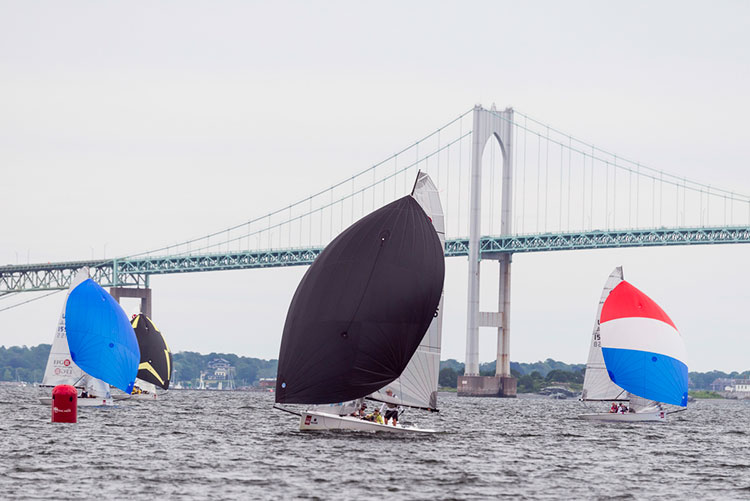 Danny Pletsch's BLACKOUT PROPOSAL, approaching the right gate ahead of (from left) Phil Lotz, Buttons Padin, and Malcolm Gefter.
The Viper Class' friends at STUDIOMILANO who treat us so well during Bacardi Miami Sailing Week, Gabriele Pedone and Sara Zanobini, were on hand as was Eddie Cutillas from Bacardi USA and Kenia Naves Rocha from EFG's Miami office.
We all look forward to seeing the EFG, Bacardi, and STUDIOMILANO team next winter at Bacardi Miami Sailing Week!