And here's Ronnie's report: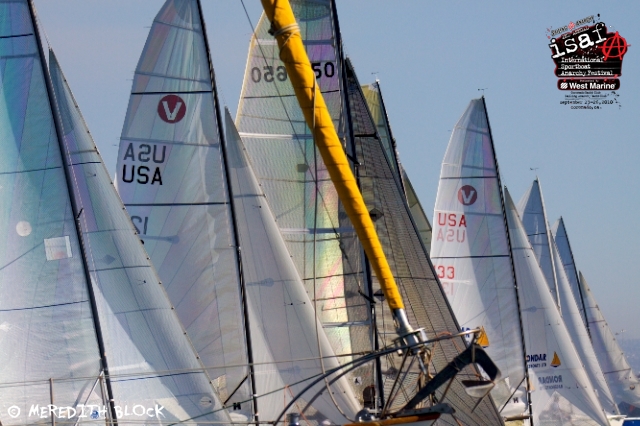 It must be that time of year again, because I find myself returning to San Francisco with an empty wallet, a deep sunburn, a sore body and a massive hangover. Yes, the World Championships of the World, er, International Sportboat Anarchy Festival took place this past weekend in sunny San Diego. I found myself racing a Viper 640 in a 28 boat mixed design fleet that included 14 Vipers. We had our ups and down throughout the weekend, but the weather was great, the racing close and the parties lively.
After winning the Ultimate 20 class at ISAF last year, Ullman sailmaker Ben Lakin and I decided to team up and see what we could do in the Viper class. With an old borrowed boat and Viperette Stacey Loula, we saw ourselves as somewhat of a dark horse coming into the weekend. With Chris Winnard entering the Viper class and long-time Rondar reps Drew Harper and Tim Carter in the class, plus a slew of other quick boats from all over the West Coast and Arizona, it would appear to be anyone's regatta. A productive day of practice on Thursday would allow us to fix some issues with the boat, work on boat handling and gel as a team.
Friday's regatta consisted of 3 races, which would be scored separately from the ISAF regatta. When the dust settled after a long day of racing, Chris Winnard proved to be the class of the field, dominating to take 3 bullets, while we worked our way to 2nd Viper overall. The first two races were standard windward- leewards, while the 3rd was a modified pursuit race, which saw 70 boats race around South Bay, finishing just off the club house. With everything from 505's and Moth's to J-125's and one design sportboats, the race was dubbed the "Beer Can Worlds", and it succeeded in bringing new meaning to racing back to the bar.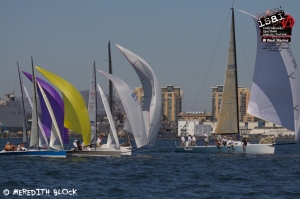 Scot's vision of bringing Anarchy to Coronado YC for a weekend was in full swing. Chris Winnard's Viper gybed in front of the dock at the finish. We were just seconds behind when one of the J/125's rolled us at the finish. Securing 3rd in the Beer Can Worlds, we were awarded a bottle of rum for our efforts, which was much appreciated. CYC once again stepped up huge providing cheap booze and an awesome venue to party at. That's Snap, Stacey, Scot and Yours Truly pictured above.
Saturday wasn't so good to our boat, "The Snake". We straight blew it out our ass, with the exception of a 2nd in the first race. We were one of only two aluminum-rigged Vipers in the fleet, and in light air, we just couldn't get the boat up to speed. On Sunday in more breeze, we once again had boat speed and good crew work, managing a couple of good finishes. Our result in the regatta wasn't quite what we had hoped for after Friday's great result but as with any truly great regatta, I don't think I saw a single person who would consider the weekend as anything less than a great time; our boat included. The racing was extremely competitive. Winnard remained the front runner, taking nearly every bullet, but with positions 2-7 changing nearly every leg, things never got dull. Nearly every boat had brief stints in the top 3 and near DFL's. I love close racing.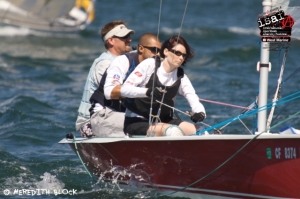 Love him or hate him, Scot pulled off another great regatta. I've been fortunate enough to race in the first two ISAF's and I'm already marking next year's on the calendar. After racing and sailing mostly solo offshore stuff in the past year, I had almost forgotten how much fun racing small sporties in big one design fleets can be. And the Viper fleet is absolutely awesome. I want one. With 14 boats at ISAF, 11 racing in Texas and close to 40 next week in New York, big fleets and regattas are popping up all over the country. And for good reason. The builder, Rondar Sportboats, actually flew a rep out from England to check out the ISAF regatta, coach drivers in the fleet and help support the class. ISAF sponsor Ullman Sails also supported the class, with sailmakers on 2 of the boats, including the overall winner. Drew Harper from Spinnaker Sailing, the West Coast Viper distributor, took second in class. He is pushing the boat hard and if things go his way, we'll have 20+ on the line next year. Definitely sold on Vipers… 740 pounds of fucking fun. Who needs crew for Charleston next year? Seriously…
The sportboat revolution is in full swing. This was the most fun regatta i've been to since last year's ISAF, and after an introduction to "big boat politics" at the previous weekend's abortion of a Big Boat Series, I had forgotten that sailing is supposed to be about fun. This regatta should be a model for every race organizer to follow. Big sport boat fleets, good close racing, cheap booze, fun parties and great weather…. See you next year!
results HERE