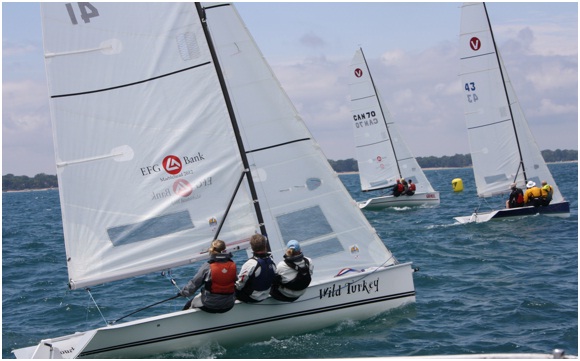 The Great Lakes Viper Fleet had our 'Ontario Championships' June 29-30 at the Sarnia Yacht Club. As always, Southern Lake Huron did not disappoint providing plenty of wind, and some of the best fresh water sailing conditions on the planet.  Viper sailors were treated to 2 days of very well run races (thank you Brad and Brandy Boston and family) at a great facility and the chance to connect during the Doyle Boston sponsored BBQ after each day's racing. Conditions were excellent resulting in 10 races and some very tight racing.
Saturday – 6 Races Sailed – 10-15 kts, 2-3' waves partly to sunny skies, 75 degrees.
Sunday – 4 Races Sailed – 8-12 kts, 2-3' waves, overcast 73 degrees.
(Close racing on Sunday – pictures courtesy of Brandy Boston)
Video footage from Black Sheep (#29) – http://www.youtube.com/watch?v=1_mKvuTaPo8