Garrett Johns is the secretary of the Viper class.  At the risk of insulting those of you who have the Class Constitution memorized, "the Secretary shall be responsible for taking minutes of meetings, maintaining records including a record of class members and class registered boats. The Secretary shall ensure that the Executive Committee pursue objective 4.4 ["encourage communication between Viper sailors to share information and sailing experiences. The Association shall maintain a Class website"] and promotes the exchange and dissemination of information among class members. This shall include the maintenance of an effective Class website."  So really, you could say that if it wasn't for Garrett, we wouldn't have the "Better Know a Viperer" series.  Now you know who to shoot, but we wouldn't recommend doing that, as Garrett is the tallest of the class officers (not counting Class Governor Kay "The Dutch Elm" VanValkenburgh).  Unless you sail on the west coast, you've probably never met Garrett, so you should read up.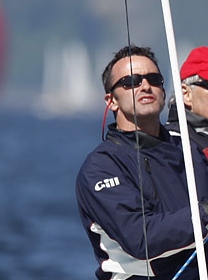 Name: Garrett Johns
Location: Anacortes, Washington
Viper currently (or past) owned: Only one…Hull #129 that we bought used from none other than Jeff Jones. We wanted a snake name but had trouble coming up with something good that wasn't already taken. We settled on "Kaa" which is the snake in The Jungle Book. We did NOT however think enough ahead to realize that we would be getting a lot of "kaaa, kaaa, kaaaa" crow noises from our fellow local Wednesday night beer can racers. It has taken us a long year to explain to everyone… "We are NOT a crow, we are a snake!". Now we get "sssssssssss"….much better!
How long have you been racing Vipers: I have only raced the Viper for 2 seasons
Who introduced you to Viper sailing, and what drew you to the boat:  Chris Winnard came up and took us on a demo sail on a Wednesday night race in Anacortes. There was hardly any wind and the sailing that night was horrible but I think we had talked ourselves into a Viper before we went out sailing that night. My sailing partner, Steve Orsini, and I had been looking to get into a sport boat. We had done a lot of research on-line comparing different sport boats and the the Classes. The Viper hands down seemed to be the most bang for the buck.
What other boats have you raced and when did you first start: My grandpa taught me to sail and I grew up sailing with my grandparents in the San Juan Islands. I have a picture of my first sail with them when I was 6 months old (you would think I would be better at this after all this time!!).  I did bow on a J/24 for several years back when the Seattle J/24 was the thing to do. I have also been involved with the Lido 14 Class, a 2 person dinghy which is primarily located on the West Coast. Most recently, I campaigned with Steve on his Santana 20.
Who are your regular crew / favorite people to sail Vipers with: I actually own #129 together with Steve Orsini so we sail it together. When we bought her, we decided that rather than randomly trade positions, we would trade the helm every year. We have been Viper sailing for two seasons now, so we have each had a chance to both drive and crew (next year is his turn to drive again…dang-it!!). We have very similar styles tactically and have learned to communicate well over our years of sailing together so it works out well for us regardless of position on the boat. My wife sailed in the Lido 14 Class with me for years but is enjoying her racing "retirement" on the beach with a book while I am out sailing the Viper..I will get her out there!
What do you do professionally: UPS driver…Not nearly as fun as driving a Viper!
What do you like most about Vipers: Fast has to be first on everyone's list….right? Besides that, one of our concerns being from the often frigid Pacific Northwest, was that a low freeboard sport boat would be a wet boat. Much to our surprise, we found the Viper to be drier than the S20 we had been sailing. The Viper is beamy enough uphill that when you are hiked out and heeling at all, you are a ways off the water and the flared hull shape keeps the waves down. Downwind in the breeze……well, you just are just flying over the water anyway!
Also, it is very easy to tow and launch.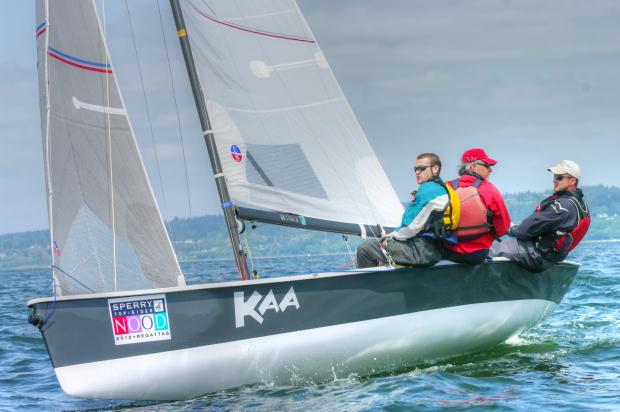 Least: mmmmmm…..does the fact that don't own another one on the East Coast count?
What is your favorite sailing event and why: Up here in North West, Whidbey Island Race Week is the big summer shindig. A great actually full week regatta that was host to the Viper Pacific Coast Championships this year.
I will say that, having been down there to sail our Viper a few times, Long Beach in SoCal has to be one the best Viper sailing venues on the planet. The Class has a couple of great years to look forward to with the NA's in Houston and Long Beach in '13 and '14 respectively.
What would you tell a newcomer to the Viper class who wants to get up to speed quickly: Ask the boats at the top of the fleet! Everyone in the Class has been great with helping get us up to speed. Ask, ask, ask….everyone is very helpful.
Do you have a basic race philosophy: Depends whether it is a single race or a regatta but in general, clear air and low risk. Consistency general pays off.
What is your favorite piece of sailing gear: Gill waterproof shorts hands down!
What's most frequently played on your iPod these days? Would it make me sound old if I said I listen to the radio?
What is the one sailing accomplishment that you are most proud of? We won the '08 inaugural Seattle NOOD overall on Steve's S20 and got to go to the British Virgin Islands for the NOOD…"Championships?". It was funny because not realizing it when I got into the Class, one of the other 8 NOOD winners from across the US that year was none other than our own Justin Scott.
What sails do you use: Ullmans
What will you do to not miss sailing this winter: Spend a lot of time with my family. We have a couple of great kids and a daughter in high school so there is plenty to keep busy with. We also have Seattle Seahawk Season tickets and enjoy that.
What are your Viper plans for 2013: Long Beach for sure, the Pacific Coast Champs at Huntington Lake in California, then make the trip to Houston for our first NA's!…cant wait!!
What is your favorite part about being an officer of the Viper class? Being relatively new in the Class, it is a great opportunity to get to know a lot of the Viper sailors across the country and around the world
What are your goals for the development of the class and of the boat? I am excited to see the Viper continue to grow on the West Coast and, in particular, up here in the Northwest. The Class has been great with any support needed to do so.
Tell us your favorite (website appropriate) Viper story: We had only owned the boat for a month and were doing our first regatta. A bit of squall came through going downwind and we wiped out on a jibe. When we started to go over, my dinghy instincts kicked in and I immediately swung over the side to hop on the keel to help right her. I realized half way through the move that unless I was 7 feet tall, I was not going to be able to stand on the keel and still hold onto the rail. I just let go and I am sure it looked like I just jumped overboard. when I came up I could hear Steve and Austin…."where did Garrett go?" I had to shamefully swim back around and climb back in.  Probably not my "favorite" Viper story but its funny.