Any time your Viper sailing spouse has as his forum profile quote "Don't Piss Deborah Off……..please", you know you've found a candidate for your next installment of "Better Know a Viperer."  Deborah Deats-Wilusz has made a strong impression on the class in a short period of time.  She and husband Craig finished a strong 9th at their first Charleston Race Week in 2011, following it up with a fifth at the 2012 Bacardi Cup and four top-three race finishes.  Barring any late summer hurricanes, they'll be hauling Viper 100 "Ice Melted" from the Florida panhandle to Marblehead in a couple of weeks for the NAs, so we figured it'd be best to talk to her now and get on her good side before the first crossing on the course or the rum tent…
Name: Deborah Deats-Wilusz
Location: Fort Walton Beach, Florida
Viper currently owned: "Ice Melted"- # 100
Tell us a bit more about the origin of the name of your Viper: A play on words, really. My husband Craig and I had a Nacra 6.0, then a Nacra 20; both named "Hoof Hearted". "Ice Melted" played right into that. We followed it with the name on our Hobie 33 "Myasasaur."
How long have you been racing Vipers?: I started racing the Viper when we purchased #100 in the fall of 2010.
Who introduced you to Viper sailing, and what drew you to the boat: We actually found out about the Viper while researching three to four person keelboats online. Craig and I wanted a boat the two of us could easily rig and dry sail out of the Fort Walton Yacht Club. I really like minimal crew and loved the 2-person aspect of racing the Nacra's,  so I wanted a keelboat that I could easily double-hand with my husband Craig. I had been crewing on a Melges 20 and really loved it; however, the price point and the Viper Class attitude really drew us to our decision to purchase the Viper. I had never physically seen or sailed the Viper but went ahead and bought #100 online.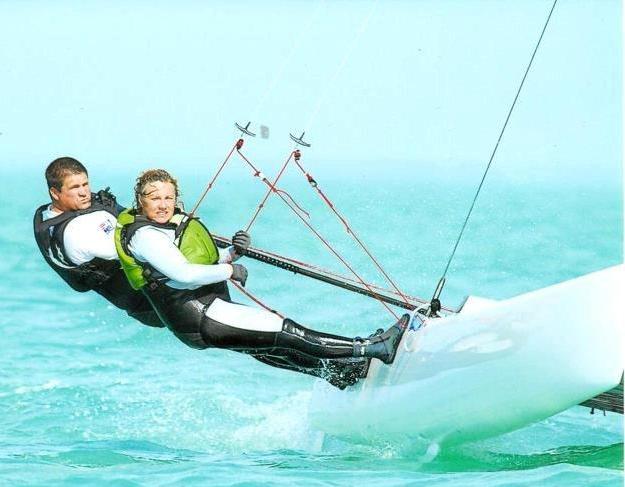 What other boats have you raced and when did you first start: I started sailing about seven years ago. Sam and Jennifer Grant invited me to go out beer can racing on their Olson 34 and that's all it took, I was hooked. I started racing on everything I could from many different keelboats to Trimarans. I think there is a nickname for that. I added small boat racing (Flying Scot and Sunfish) to my repertoire and then upgraded and bought my own Laser. Deciding one boat wasn't enough; I entered into a partnership with some local ladies, and purchased a J/22 to compete in the Rolex Women's International Keelboat Championship. I was invited to crew on a local S2 9.1 for Key West Race Week, became good friends with the guy that was coaching, married him and then moved into catamarans, a Nacra 6.0 and then a Nacra 20. Recently, we purchased a Hobie 33 so we could host booze cruises and do night racing.
(Above: Deborah and Craig giving the "eye of the tiger" look while racing Nacras)
Who are your regular crew / favorite people to sail Vipers with: I really have it made. I get to sail with my husband, Craig, and my son, Kip. Kip, approached us in January and asked if he could start sailing with us. Kip has been sailing for less than a year and is enjoying it so much that he bought a Hobie 16 and is our Hobie 33 foredeck too.
What do you do professionally: Software engineer
What do you like most about Vipers: Fast, fun, easy to sail and rig. Also, the class is amazing … friendly, supportive, informative and fun.
Least: I really don't like the fact that there are so many fun regattas that I want to attend … it really makes picking and choosing way too hard. Also, I don't like the fact that we are spending way too much time trying to keep our mast track attached. I need to buy stock in marine adhesive! (editor's note: this seems like an isolated problem – check out the forums for advice on the off chance this is happening to you).
You guys are a husband-wife team — what is that like? Hmmmm. Well, there is never an argument when we want to spend money on boat stuff!!! We are both really passionate about sailing. I get to enjoy my hobby with the love of my life, and not many married couples get to do that. We are both very competitive and don't always agree on the water. Craig has been sailing for over 20 years compared to my 7, so, of course he is "always" right. But, since he has always expected A LOT from me on the water, I have progressed pretty fast and am "right" way more often than he would like to admit. Actually, we make a very good team because we are both always trying to be faster, smarter and learn from our many mistakes
Do you guys rotate positions in the Viper? If so, what is your favorite spot: Yes, we do switch and I don't have a favorite. I actually drive most of the time at our local yacht club. Maybe in 2013 I will debut at a Viper regatta, but I know we will do so much better if Craig is driving … there is that competitiveness trait coming out.
What's one thing that you'd want people from the Viper class to know about you that they probably don't: That I don't get pissed off all that easily, but look-out if I do!
What is your favorite sailing event and why: That is a hard question since my racing platforms have been pretty diversified and there are lots of fun events out there. I am going to be general and say that my favorite sailing event is a Championship of any type. They are always competitive, have great courses, race committees and wonderful après sail.