If you are looking for new or used boats give one of our Australian contacts a call.
AUS 139 "Easy Tiger" FOR SALE
[ Updated August 2017 ]
Complete boat ready to race. Comes with:
Galvanised trailer
Original set of Hyde sails that came with boat, Great for training
2 year old set of Hyde sails. Main, Jibe and Kite
Boat cover
Located Albany.
Great value at AU$22,000
More information
Contact Michael michael@cameroncaravans.com.au
---
AUS 113 "Alice" FOR SALE

[ Updated August 2017 ] Selling "Alice" as I have taken delivery of a new boat.
Ready to race
With both old training sails and brand new set of Hyde sails
New rigging
Currently at South of Perth Yacht Club.
AU$25,000
More information
Contact Bruce bruce@kwarra.com.au
---
AUS 111  FOR SALE
[ Updated December 2017 ]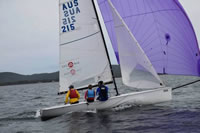 Good condition, raced every week last season.
New rudder 2016
New carbon mast, standing and running rigging 2017
Reasonable main and 2 Jibs one is new 2017 and 2 rather old kites.
Alloy road trailer and Cover
A competitive boat with lots of new gear (mast, sails, rudder, running rigging etc).
AU$19,500
Contact Chris chris@edenroadfarm.com